Make beautiful glitter glasses with Mod Podge to celebrate New Year's Eve – or any other celebration. The best part is you can wash these!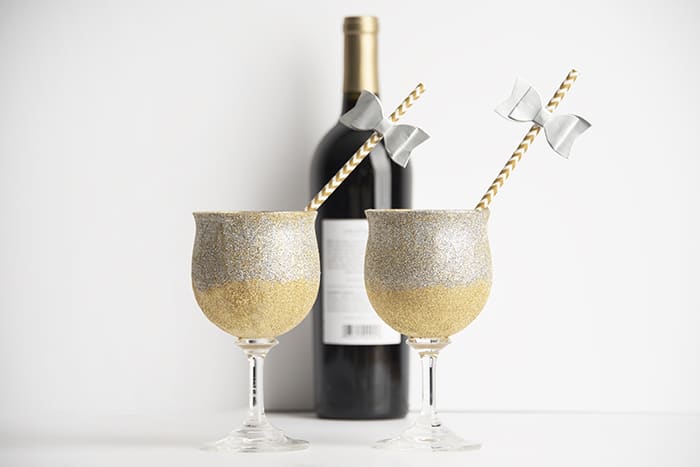 Hello friends, and Happy New Year! I can't believe it's almost 2016! Crazy.
I must say, I love that before we focus on resolutions and get organized, we always kick off the new year with a party. New Years Eve is one of my favorite holidays!
I love making party decor for New Years, so I wanted to share a fun glitter glasses tutorial with one of my favorite Mod Podge supplies. This is the Mod Podge Dishwasher Safe Gloss medium, and it can easily turn your projects into water proof, dishwasher safe dishes. So cool!
DIY Glitter Glasses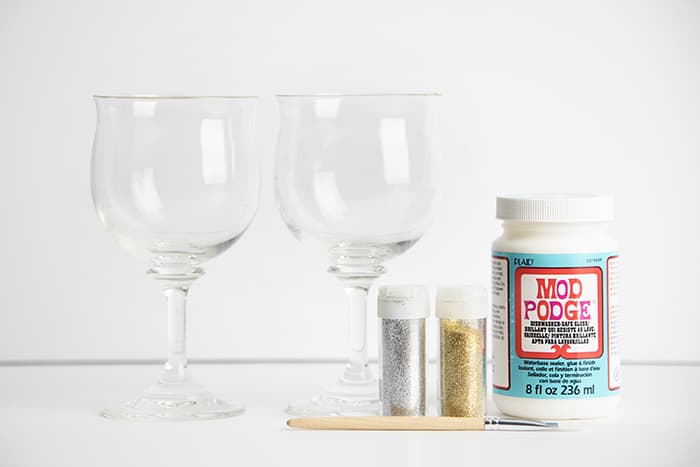 To make a pair of ombre glitter drinking glasses for your New Years Eve soiree, all you need is two glasses, silver and gold glitter, a paintbrush, and Mod Podge Dishwasher Safe Gloss.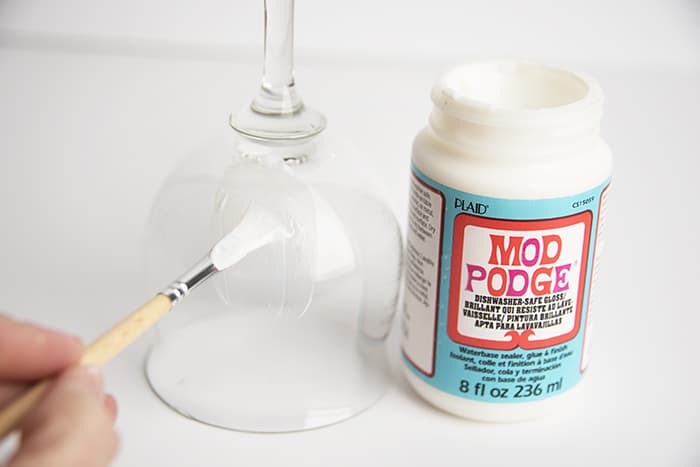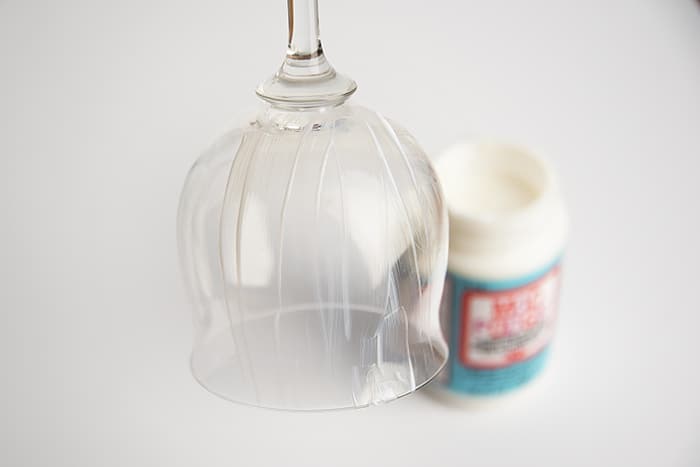 Brush each glass with an even coat of Mod Podge Dishwasher Safe Gloss. You can use painters tape to block off any areas you don't want to get glitter on, or you can cover the entire glass like I did.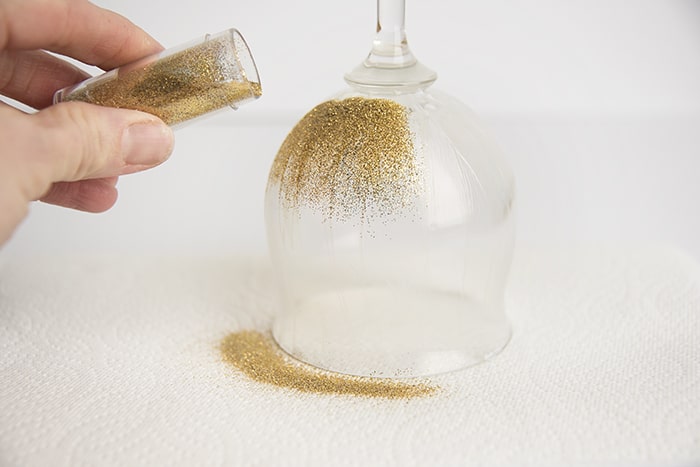 While the glue is still wet, spread an even amount of glitter all over the glass. The medium dries really fast, so be sure to put the glitter on quickly. I wanted a two-tone look, so I poured the gold glitter on first, then silver.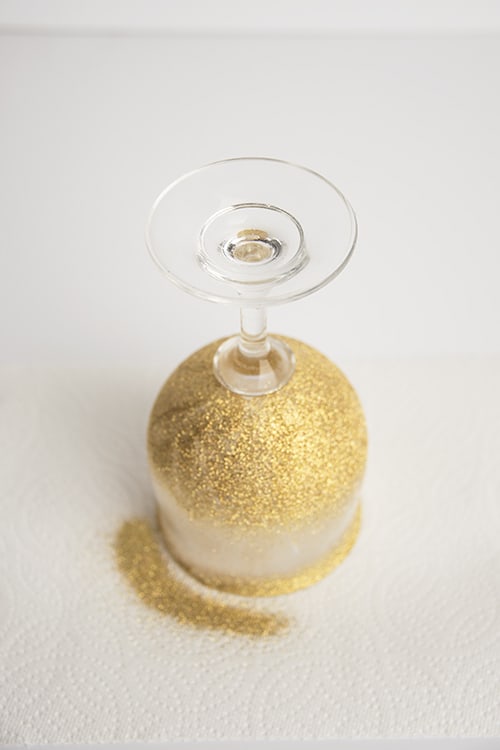 Be sure to cover your work space with paper towels . . . glitter can get really messy!
After pouring on the glitter, allow your glasses at least two hours to dry completely. If your glitter is really thick, wait overnight.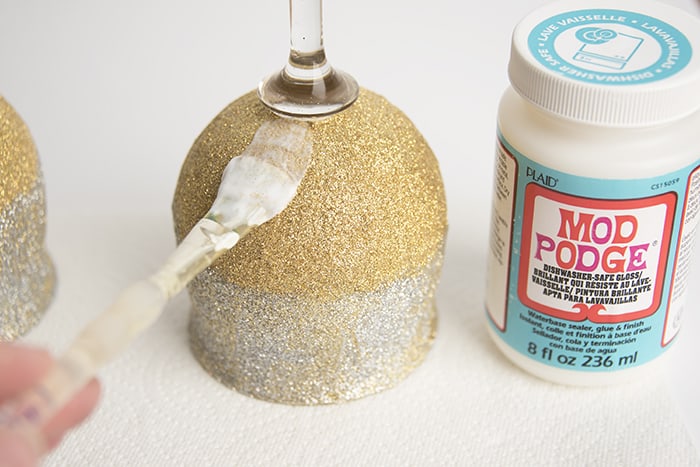 When your glasses are dry, apply a generous coat of Mod Podge Dishwasher Safe Gloss on top of your glitter. Allow it to dry completely, and add a second coat if you feel like your glasses need it.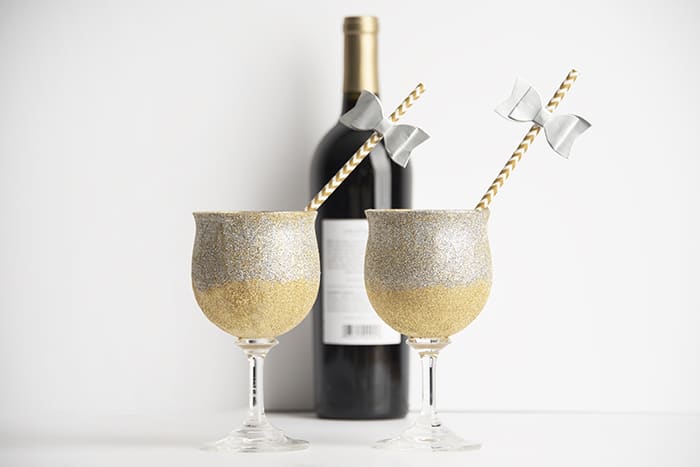 That's it! So easy. I LOVE how these glitter glasses turned out, and I think we will use them again and again. I can't wait to try out Mod Podge Dishwasher Safe Gloss on more glasses!
Happy New Year friends. Hope your holidays are full of family, food, and fun!
XOXOXO
Natalie
Note: while Natalie's photos illustrate the glitter going all the way up to the glass rim, if you are going to use these you should leave the glitter about 1/4″ down from the lip according to best practices for Mod Podge. Thank you!
If you enjoyed putting glitter on glass, you might also want to try a glitter mug! Learn how to make them by clicking the image below: