You can make DIY bookends out of almost anything, but this vintage rolling pin version is particularly charming. Looks great in a kitchen!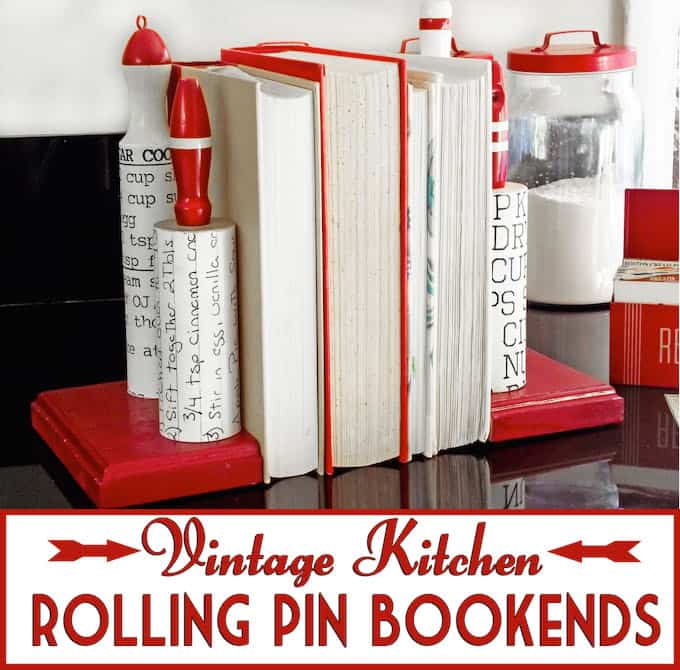 As those of you who follow me on my blog Cheltenham Road know, I (fairly) recently remodeled my kitchen. My house is a true fixer upper and the kitchen needed the most fixer . . . ing. I started out with this before any work was done: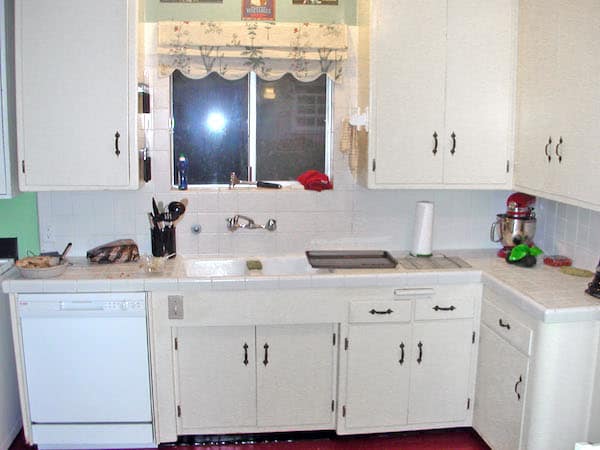 and it came out with what I hope is a classic yet vintage-y vibe befitting my 1940s home.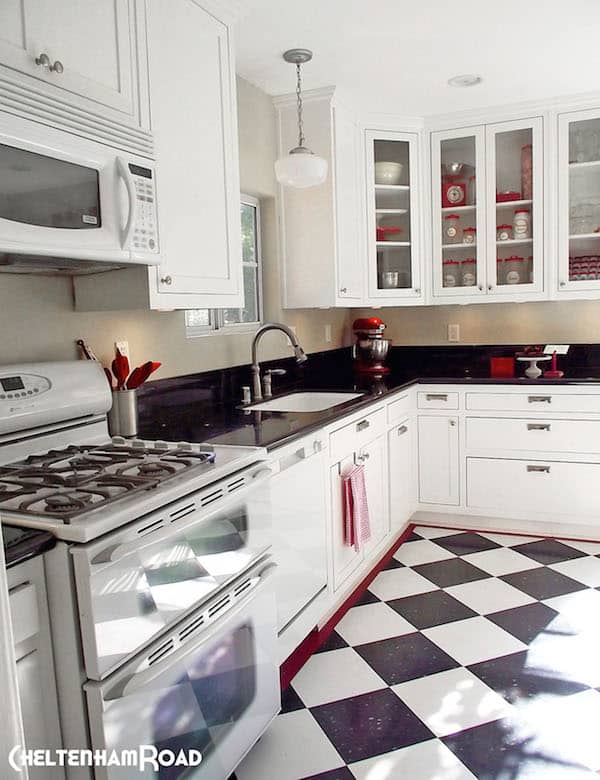 DIY Bookends
I decided recently that I could use some DIY bookends to hold up the cookbooks and, in keeping with the style, no mere metal ones would do. And hence, a rolling pin bookend project was born.
Wooden rolling pins with interesting handles are easy (and cheap!) to find at thrift stores, so I gathered a collection and got to work (no actual vintage rolling pins were harmed in making this project).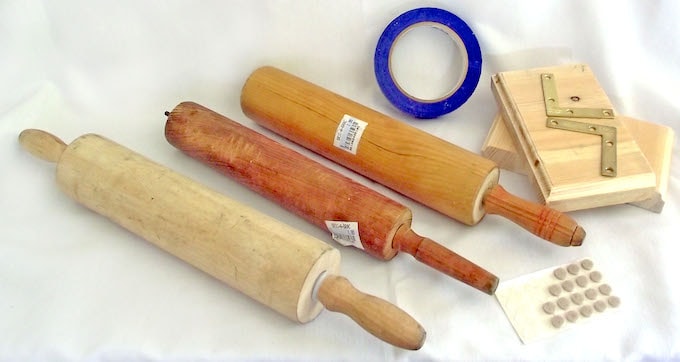 Make Vintage Bookends
For these DIY bookends I used:
Matte Mod Podge
Wooden Rolling Pins
A wooden plaque from Michaels (cut in half)
Two (2) metal L-Brackets
Painters tape
Spray Paint (craft paint would work just fine)
Assorted screws
Felt pads
Digital Scans of recipe cards
220 grit sand paper (optional)
I used the following tools:
Chop saw (very helpful, but not totally necessary)
Cordless Drill and drill bits
First up: using the chop saw, I cut my wooden plaque in half and cut my rolling pins to size. I wanted the pins to be different heights, so I cut two at 6.5″ and two at 5″ tall.
Note: Before sawing the rolling pins, try to determine how the handles are connected. Some pins use wooden dowels and some use metal rods to connect the two ends.
Usually with the metal rods you can unscrew one handle and remove the rod before sawing the pin in half. You can then saw the rod using a hack saw or strong wire cutters.
If you don't want to cut the rod, you can glue the handle in place. In all cases please use proper eye-wear when cutting through the pins.
I wanted the pins to have a used, vintage-y look so I sprayed the handles antique white. Once that dried, I did a bit of distressing with 220-grit sandpaper. After that I used painters tape to mask off sections, and then used red spray paint to create strips and patterns.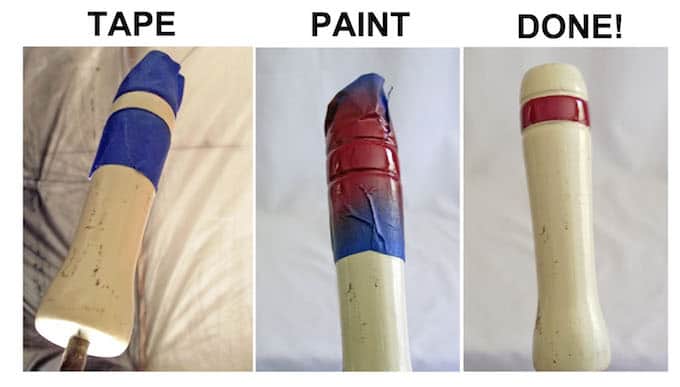 I used the same red spray paint to coat the two halves of the plaque base.
While all the parts were drying I did a quick scan of four recipe cards: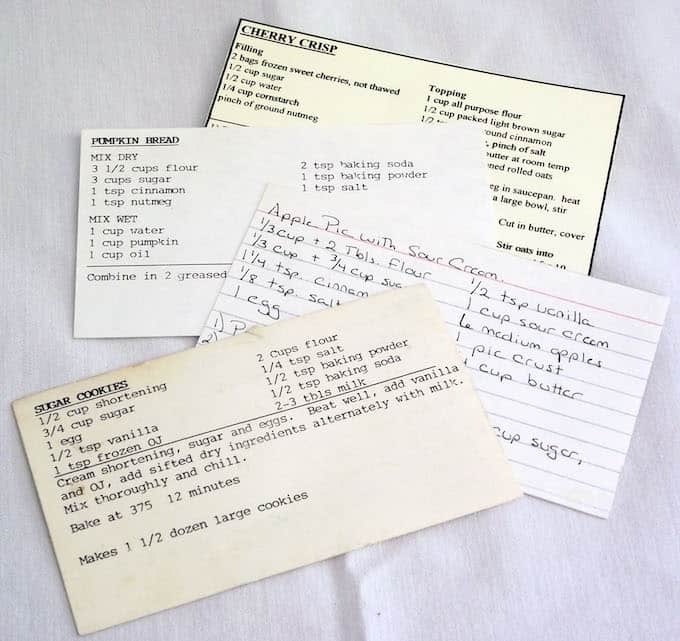 I blew up the scans on the computer, resized them to the dimensions of the rolling pins and printed them out (using a laser printer).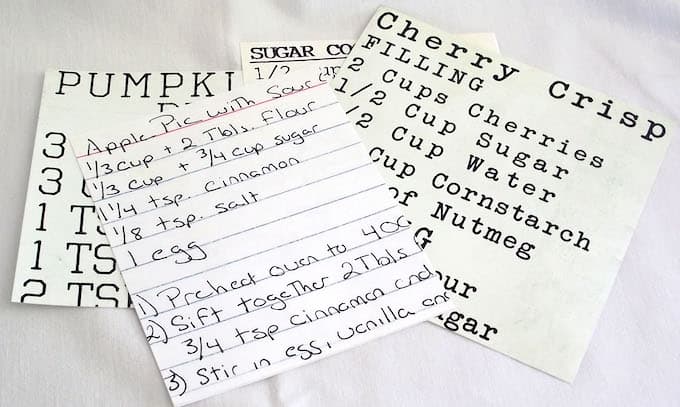 A little Mod Podge made quick work of attaching the recipe card print outs to the rolling pins and once it had dried I trimmed away any excess paper, did a little light sanding of the edges and sealed them with another coat of Mod Podge for durability.
To provide a little extra stability and functionality to the bookends I attached the metal L brackets to the bottom of each piece of the plaque.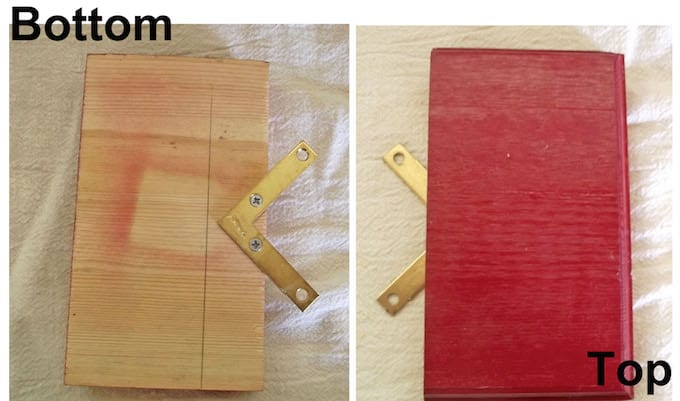 Attaching the Pins to the Base: To make life easier and to make sure everything ended up in the right place I marked where I wanted the pins to go and drilled pilot holes through the base.
I drilled corresponding pilot holes into the bottom of the rolling pins and then using long screws screwed them all together.
I next attached the little, fuzzy, felt pads which both protect the counter and also compensate for the depth the metal brackets add to the base. The result? DIY bookends, made with rolling pins.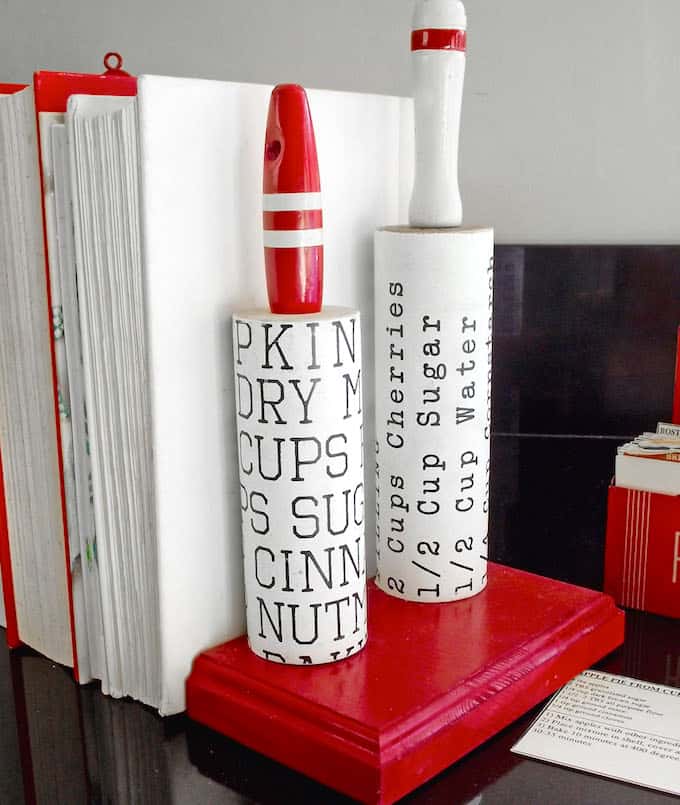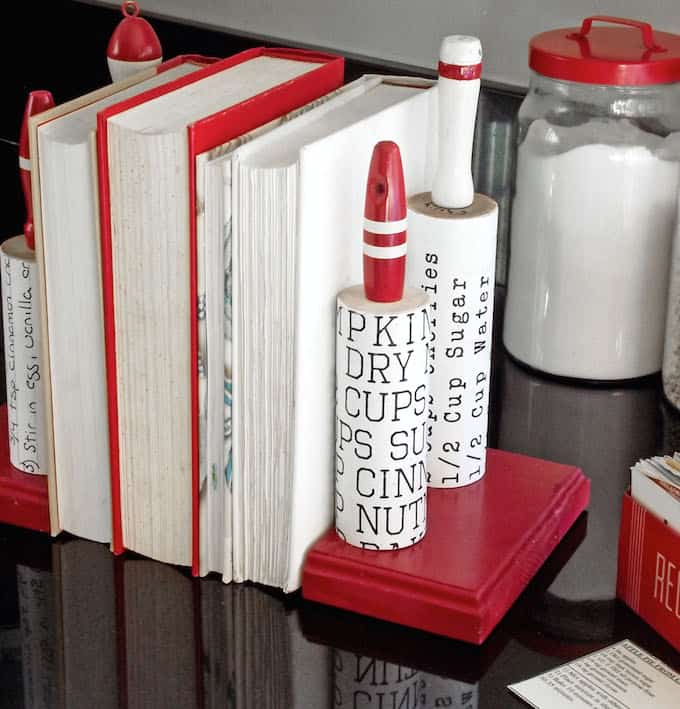 I will, as always, do my best to monitor the comments if you have any questions or if anything was unclear. Also don't forget to visit me at my blog, Etsy, or on Facebook. Thanks very much!
David
Notes and Thoughts and Variations
I found a lot of wooden rolling pins at thrift stores – all for less than two dollars. However, you could also use dowels and decorative finials or something to get the same look.
Screwing the rolling pins onto the base was easy but took some work and an electric/battery drill is a must. You could use a really strong glue (Gorilla Glue perhaps) if you didn't want to screw them into place.
Any kind of metal bracket would do for the base. I just used the L brackets because that is what I had lying around.
If you like these antique DIY bookends, you're going to love some other vintage inspired home decor projects from David! Check these out: