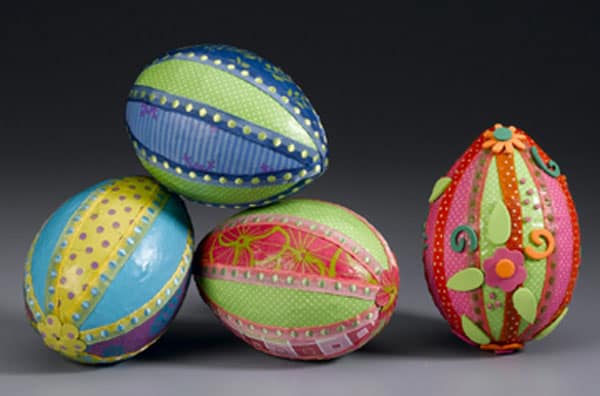 Looking for a little bit of Easter fun to spread around your home? These Styrofoam Easter egg crafts are so easy to make – kids love them too! All you need are Styrofoam eggs, paper, ribbon, and Mod Podge. would be great for a mantle display or as a clear vase filler. Sharon from Styrofoam Crafts is kind enough to share her tutorial with us today. I love the bright colors and ribbon, don't you?
——————-
Admit it – you have a box of paper scraps that are too pretty to throw out, right? That's where Styrofoam Easter egg crafts come in! These pretty Easter eggs are a great way to use your favorite scraps (or an excuse to buy even more scrapbook papers!). If you'd like to hang your eggs when you're done, tie a 6" – 8" length of ribbon in a loop, and then pin and glue the ribbon loop to the narrow end of the egg.
Styrofoam Easter Egg Crafts
Gather These Supplies
12" x 12" scrapbook paper, one sheet per egg
Bright ribbon, 3/8″ x 54″ per egg
Wood skewer
Paint brush
Small straight pins
Thick, white craft glue
1″ flower paper punch (optional)
Using this pattern, cut out eight pieces of paper per egg.
Insert a wooden skewer into the bottom of the egg to use as a handle. At the top of each egg, mark the center by making a hole with a pencil.
Spread glue onto the back of one paper piece, and be sure to coat the edges. Position the piece from the top center of the egg, and carefully smooth the paper down the length of the egg, ending at the center bottom. If needed, use small scissors to make little snips along the edges so the paper will lie flat. If needed, add more glue with small paintbrush.
Repeat with the remaining paper pieces, till egg is covered. If you're using different papers, alternate the papers as you go. There will be a small space between each piece, and that's o.k. You will cover the gaps with ribbon later on. Place the skewer in a block of foam and let the egg dry.
Brush on a coat of Mod Podge and let dry.
Remove the skewer. Glue a 13 1/4″ strips of ribbon lengthwise around the egg, starting and finishing at the bottom, and covering the gaps between paper sections. Use pins to hold the ribbon in place until the glue dries.
Cut out a 1" flower, or use a paper punch, and glue the flower to the bottom of the egg, covering the ribbons. Brush on Mod Podge and let dry.
Optional: decorate with additional flowers.
For more creative ideas, visit: