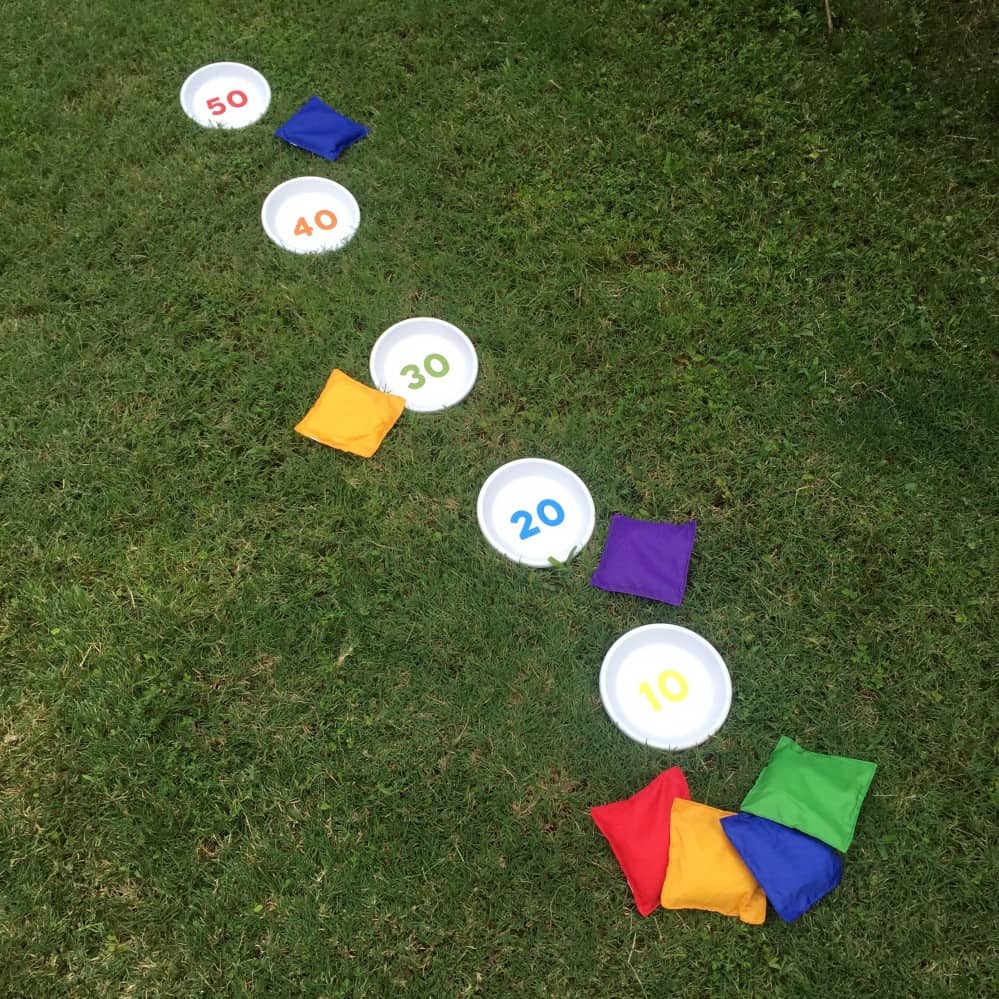 I grew up in a family of five children, and we used to get tossed outside in the summer. "Go play!" my mom would say . . . so we made up a lot of games, rode bikes, and took hikes by the lake. I always loved being outside with my brothers, and we had a few games that were our favorites. One of them was tossing tennis balls into buckets, and giving ourselves "points" depending on the bucket we were able to reach with the balls. Inspired by that childhood game, I created a DIY bean bag toss using clay pot saucers and a printable. It's so easy to assemble and you'll be having a blast in minutes! Children can help make this too, before they play.
DIY Bean Bag Toss
Gather These Supplies
Printer and paper
Bean bag toss printable – get it here
Clay pot saucers – 8", get 5 or 6 (if you want to use the 100 point value!)
Spray paint – white
Scissors
Spray adhesive and/or Mod Podge Outdoor
Beanbags in various colors (I purchased these)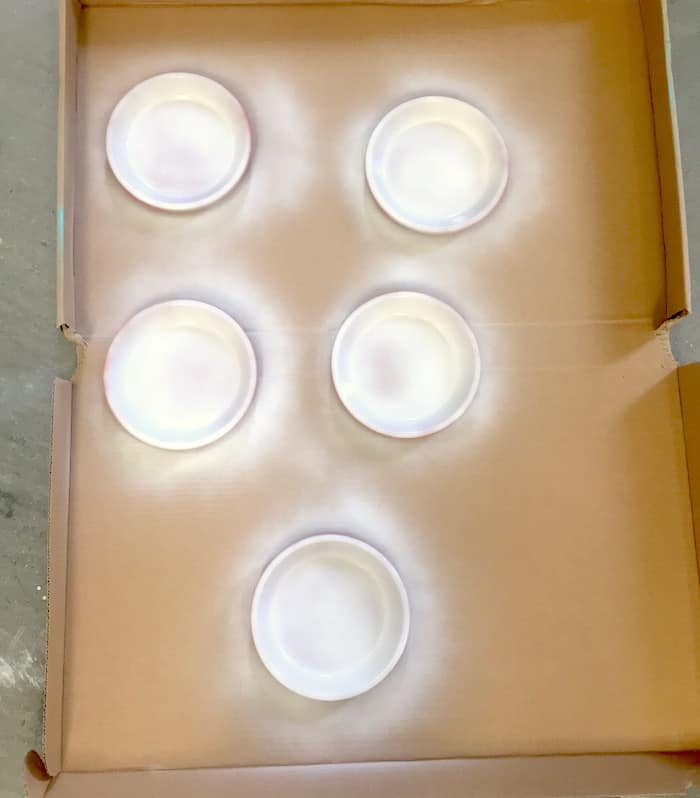 Protect your work surface and place your clay saucers down. Spray them evenly with paint and let dry for at least 20 minutes. Turn over and repeat. Continue doing this until your saucers are evenly covered on both sides and dry. Always remember to spray in a well ventilated area!
Tip: paint six saucers if you'd like to use the 100 point value in addition to the 10 – 50 option shown.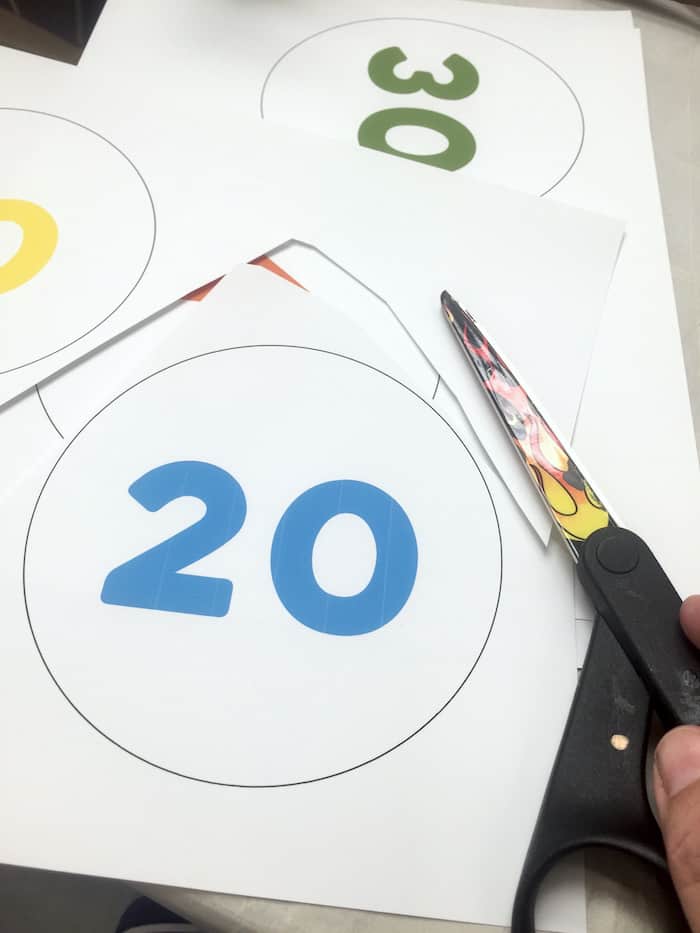 Print out the included bean bag toss printable on presentation paper, then cut out the circles using your scissors. I have provided point values of 10, 20, 30, 40, 50 and 100.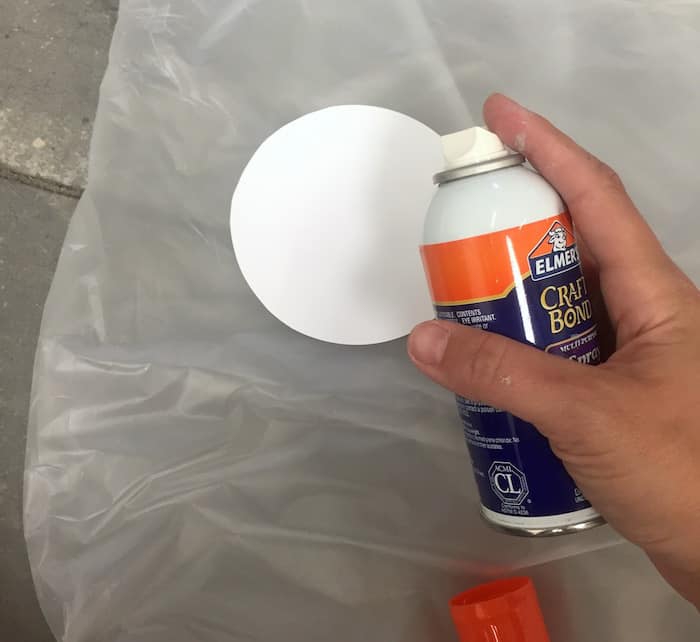 Working one number and tray at a time, coat the back of the paper with a light layer of spray adhesive.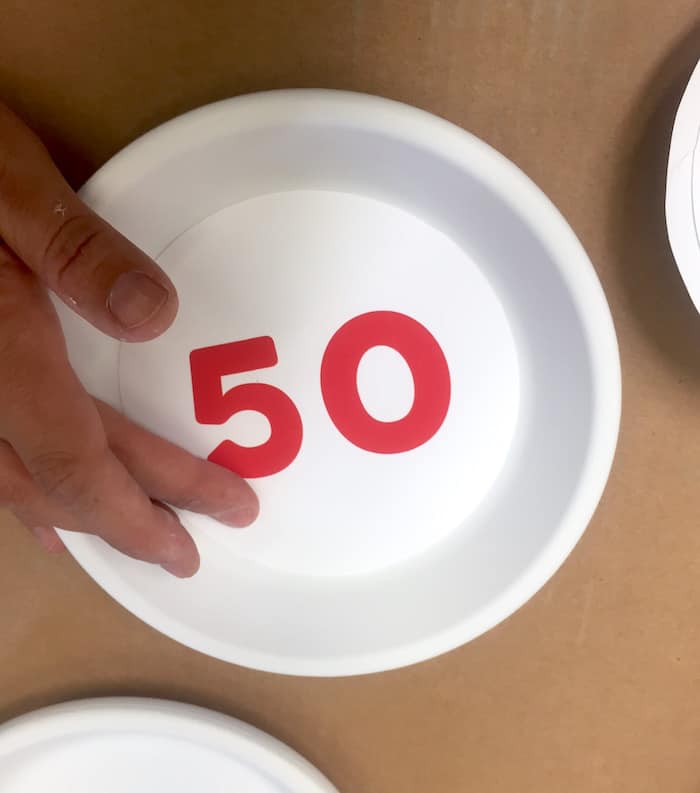 Smooth your number down inside the saucer until it's completely adhered. Repeat with the other numbers. To make a more permanent DIY bean bag toss game that will last year after year, adhere your numbers to the saucers using Mod Podge Outdoor and a paintbrush. Make sure to coat the saucers several times and let dry before using.
Take your DIY bean bag toss game outside and set the saucers as far apart as you like – you'll find that it's quite a fun challenge to play, and you'll have a blast. Happy summer!