Use Mod Podge and craft supplies to create an easy valentine candy jar gift with a chalkboard tag! Any skill level of crafter can make this.
Skills Required: Beginner. It helps to have some experience with Mod Podge since you'll be doing some mixing to make it a color. The rest is simple, even if you're not that familiar with crafting.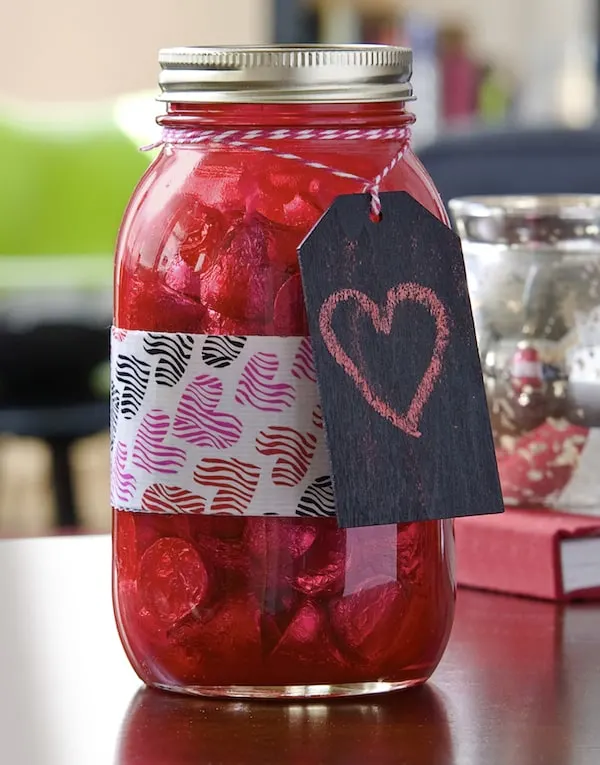 I'm a huge fan of duck tape crafts, and I just recently came up with my go-to gift idea for Valentine's Day. I mean, I don't want to go crazy, but people like candy, right?
These days you can buy mason jars in those big bulk packs at the craft store, so I figured I would go that route and give people a candy jar that I decorate with Duck Tape, Mod Podge, and a chalkboard gift tag!
This Valentine's Day craft is easy as it gets, and everyone will love it. But even if they don't they won't say anything, because they want the candy . . . right? Here's how I did it.
Valentine's Day Candy Jar
Gather These Supplies
Mason jar or recycled glass jar
Duck Tape – Valentine's Day pattern
Food coloring – pink or red
FolkArt chalkboard paint – black
Wood tag with hole
Baker's twine
Scissors
Paintbrush
Clean the Glass
Before you get started, wash and dry your jars with mild soap and water, outside and in. Or you can use rubbing alcohol and cotton balls. You'll do this so that the Mod Podge sticks well! Let dry completely before using.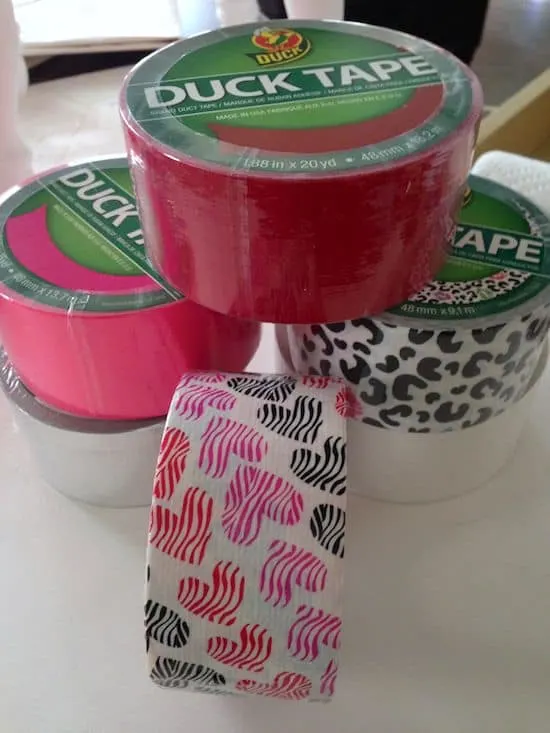 Duck Brand has all sorts of fun patterns and colors you can use for this project. I liked the hearts.
Coat the Mason Jar
In this picture, you'll see me squeezing a product called "Sheer Colors" into mason jar. That no longer exists, so you're going to mix your own colored Mod Podge in a separate container.
Add 4 – 6 drops of food coloring to about 3 T of Mod Podge, and a little touch of water. Mix together thoroughly with a brush. THEN you're going you pour it into the jar.
TIP: use the recipe found in this post to tint Mod Podge any color you like.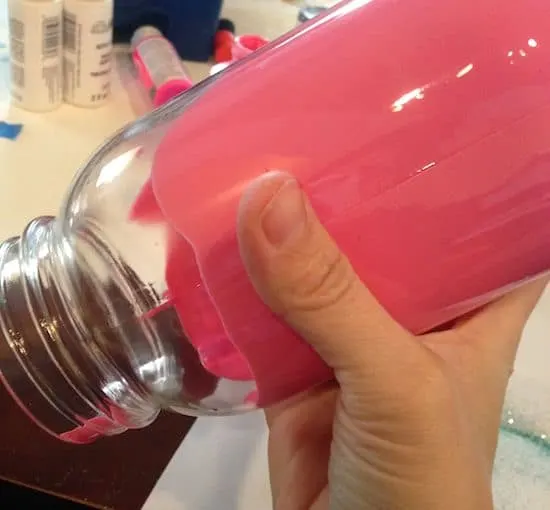 Swirl around and around and around – covering the sides as you go. Put more colored Mod Podge in the jar if you need and set aside your Valentine's Day mason jar to dry overnight.
If you notice that it isn't drying in some areas, you can put it into the oven on a cookie sheet at the lowest temp possible to continue drying. Keep watching it to make sure it doesn't dry out too much. Mod Podge isn't flammable, but if it gets too hot it will peel or melt off.
Remove the jar with an oven mitt and let cool if you use this method.
Paint the Tag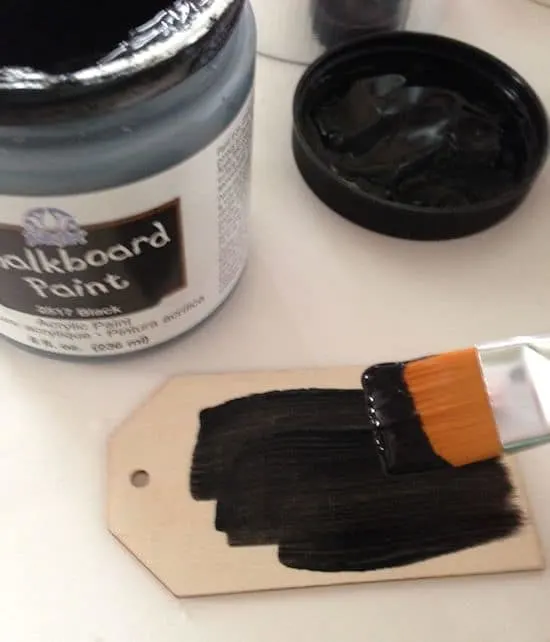 Paint your wood tag with the chalkboard paint. Give the tag three coats on each side and let dry.
Add the Duck Tape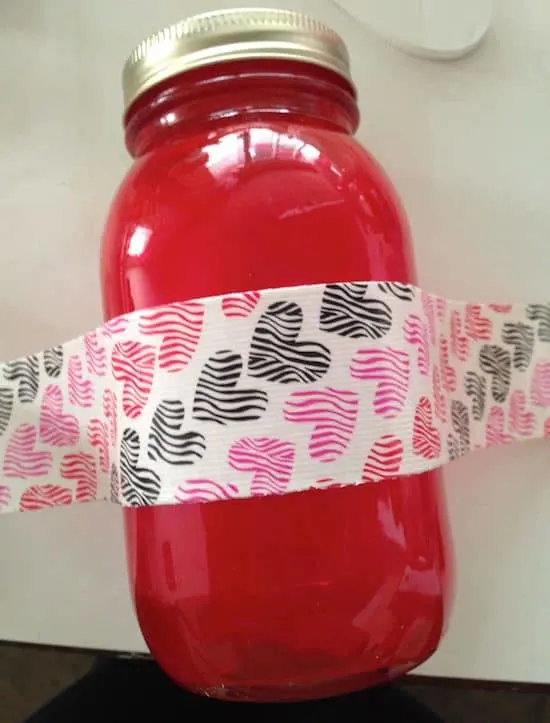 While the tag is drying, add a Duck Tape band around the center of the jar. It really adds something, don't you think?
Tag the Candy Jar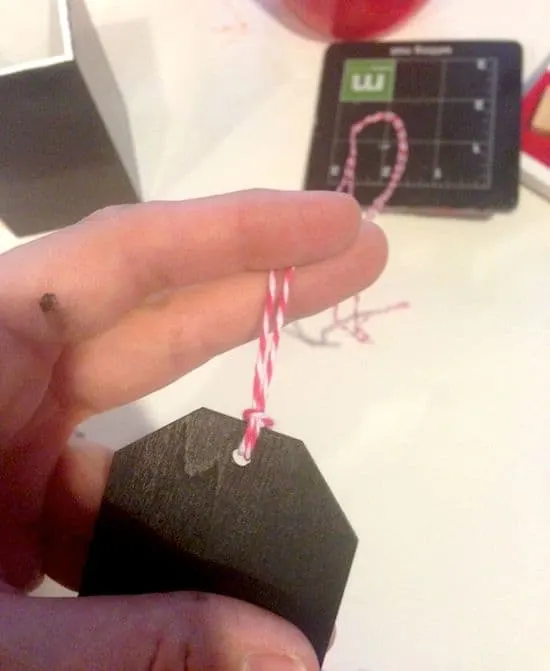 Add the baker's twine to the wood tag and then tie around the top of the candy jar.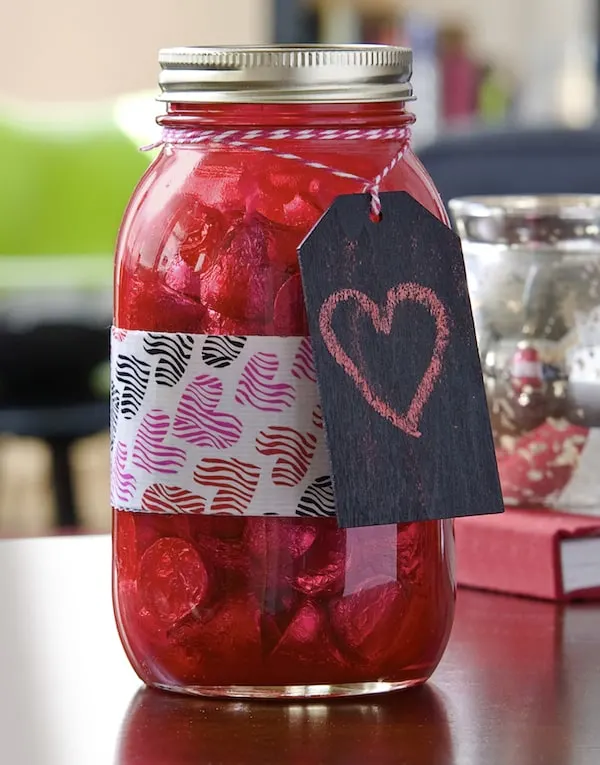 Follow the instructions to prepare the chalkboard tag, then write whatever you want on it.
Fill the Valentine's Day mason jar with candy and you are ready to rock n' roll for the holiday! This is the perfect way to make everyone fall in love with you, I promise.
---
If you enjoyed this idea, I'd love for you to check out these other posts too: