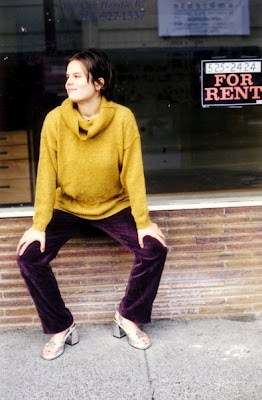 Yep, this is me – in 2001. Outside of the last apartment I occupied in Seattle. My friend Cody and I were doing a fun photo shoot with thrift store buys that day, hence the crazy clothes. I lived above a wine shop, I had survived an earthquake and phone numbers didn't require area codes (as you can see from the "For Rent" sign). That was 11 years ago.
Now I'm moving back.
This move has been a long time coming. I moved to Georgia because of my parents. My dad was a long time employee of UPS in senior management, and as a result we were transferred to Connecticut and Kentucky during my childhood. Transferring was really hard on me, so when I had the chance to go back to Seattle and attend college in 1997, I did. My parents moved from Kentucky to Georgia in 1999, and they wanted me to leave Seattle to join them – but I wasn't ready then. So in September 2001 (right after the WTC disaster) I made the move, and proceeded to go through the greatest depression I'd ever experience. It took a doctor from a small clinic to diagnose it, and then medication and counseling to be okay. But I have to be honest with you, I've never fit 100% here.
I'm one of those people that, yes, it does matter where I live. I think of places to live like boyfriends. Sometimes a guy can be really nice, but just not a good fit. Not every man is good for every woman. There's nothing "wrong" with Atlanta; it's just not for me. And I also understand that there are some people who don't see it that way – some people are okay anywhere. I envy those people to a certain extent, because it can be a real pain in the bum to have to be in a certain place. It does make sense for me, though. As a child, I cried on extended trips from home, even slumber parties. I always wanted to go home (though it also could have been the fact that my best friend had floor-to-ceiling New Kids On The Block posters and it freaked me out).
I have to confess: now that I've been here for a little over ten years, I have mixed emotions about leaving. Do I want to leave? Yes. I want to go home. But I have also made friends and built relationships, and it's much harder to move in my thirties than it was in my twenties. I look at my life – I'm 35 – unmarried – apartment dweller . . . and I wonder when I'm going to have it all together? And I get a little bit scared, because I do want a child, and I feel like I'm running out of time. Can I really be 35 and still not know what the next five years are going to be like? AT ALL?
Did I mention that I'm giving most of my stuff away? I have been amazed at the amount of CRAP that can fit into a one bedroom apartment. Where has all of this stuff been hiding in Mod Podge Command Central? I've decided it's time to pare down, and it was kind of forced on me anyway when the ReloCube arrived today and got plunked into its parking spot. Let's just say this cube is supposed to hold the goodies of a one-bedroom apartment, but it's not big. I am also officially the worst packer/mover in the entire world, because I'm slow and not a good judge of space. I kind of hate it. I guess no one really likes moving – though the bright side is that I am getting rid of SO much stuff that I don't need and haven't seen in years. It's freeing, really. Stuff truly weighs me down and stresses me out. Making my life fit into a cube is quite satisfying. My life fits into a parking spot.
Emotionally I'm holding up well . . . and physically, I feel like I need to exercise. My move is bloating me (gross!). Can a move make you retain water? But this is the difference between moving when you are 24 and when you are 35. I'm not saying I'm old, but when I was 24 I just threw all my crap (of which there was even less) into a box and didn't think about it. I remember that when I moved here, I sent some of my boxes by train and they got lost for awhile. I thought, "oh well!" It just wasn't that big of deal.
I leave next Wednesday, February 22nd, first thing in the morning. I'm driving to just outside of Dallas, and picking my mom up at the Dallas airport the next day to join me for the rest of the trip. From Dallas we'll be heading west on I-20 and then I-10 . . . we might need to keep south depending on the weather. Plus, I've been to the southwest but never driven that route, so I think it's time. The dogs are going to be in the car, so this should be an interesting trip.
I'm thinking about all of you who are also going through things . . . especially those who commented on my last entry about the changes they are experiencing. It feels good that at least we're not alone. We're all going through something together, right? Send up a prayer for me over the next few days as I struggle to get my cube packed, my stuff given away and my butt on the road. And let me know if you need a prayer too – I will be glad to reciprocate. I'll give you another update soon!