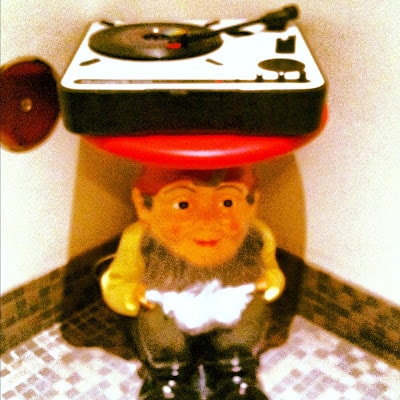 Here's a final update for those who have been wondering! And yes, it's delayed. You'll have to forgive me. It's been a doozy of a move. This gnome turntable was spotted in a restroom at Modern Hotel in Boise, ID, which I highly recommend visiting if you are ever in that part of the country. I didn't know what to expect from Boise – but it's a lovely place. We didn't get to see much of it though, because at 5am on Sunday morning, we left and headed to Seattle.
We had to go west on 84 to Portland because of snow in Snoqualmie Pass – so we didn't arrive to Seattle until about 3pm on Sunday. Shortly after we arrived I noticed that Nellie (my 13-year-old black pug) wasn't doing very well, so this week has been riddled with vet appointments. It turns out my piggie has bronchitis. She's old and freezing all the time, so now she has a smashing sweater:
Isn't it lovely? Nellie looks good in red.
I'm going to be honest with you, I have mixed feelings about coming back. What most people don't know (and I haven't said until now) is that I left behind, for various reasons, a boyfriend that I really loved . . . and it has been a rocky road. We are still in contact and there is still hope on my part that it will work out.
So as you can imagine, I'm not doing great. Just okay, really. I've cried almost every day, and it's just hard moving after ten years of being somewhere. I know that I'm going to be fine, but starting life over is not easy. I pray about it, because that's the best I can do. Sometimes I wish time didn't take so long – you know what I mean?
I'm looking for a brand marketing or social media job, so if anyone knows of a lead, please send it my way. I have applied for some jobs and even had a great interview yesterday. I'm pretty passionate about marketing, so I hope that it won't be too hard to find something that I love. Again, I pray for something that is a good fit.
I am so thankful for all of the support – thank you, from the bottom of my heart. I love your stories in the comments and am thinking about each of you as much as you are thinking about me. xo