Decorate your home for the holidays with this free printable Christmas art for your holiday mantel. Includes colorful subway art and a banner.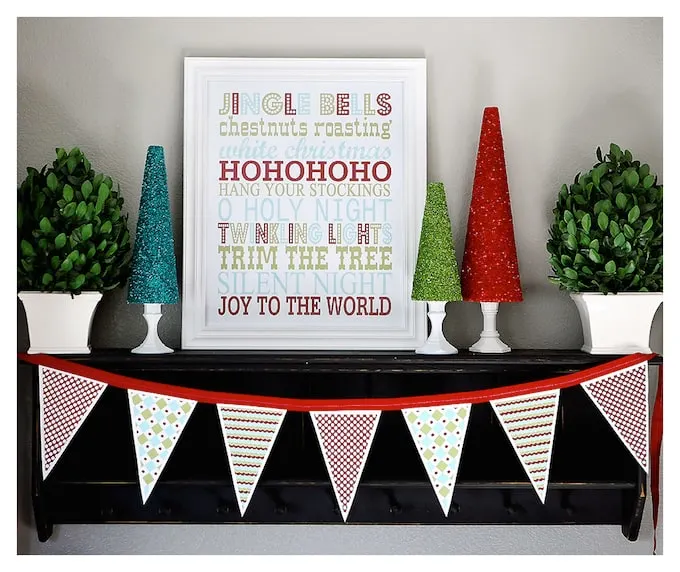 Have you been to the blog eighteen 25? You have to go. They have fun stuff. And free Christmas printables. Plus giveaways. And they are all sisters. I'm there today, and they are here. So read their post below, with free Christmas printable subway art and a banner.
---
While Amy is sharing her fun project over at our blog today . . . the three of us sisters from eighteen 25 will be sharing something we think is pretty exciting over here!
Two little things that are pretty popular right now: subway art and a pennant banner. We hope you all enjoy our free Christmas printables!
Christmas Subway Art
Just three easy steps and you'll have your own printable Christmas subway art to display.
1. Download and print document. This subway art is nice and big (16″ x 20″) – we had ours printed at Costco. (One of our readers shared a tip when ordering from Costco – under print options, check the "do not autocorrect my prints" box – thanks Courtney).
Download the 16 x 20 Subway Art Here
2. Buy a frame. We used a 40% off coupon and got a great deal on a frame from Aaron Brothers.
3. Add the print to the frame. We're sure you already know how to do that!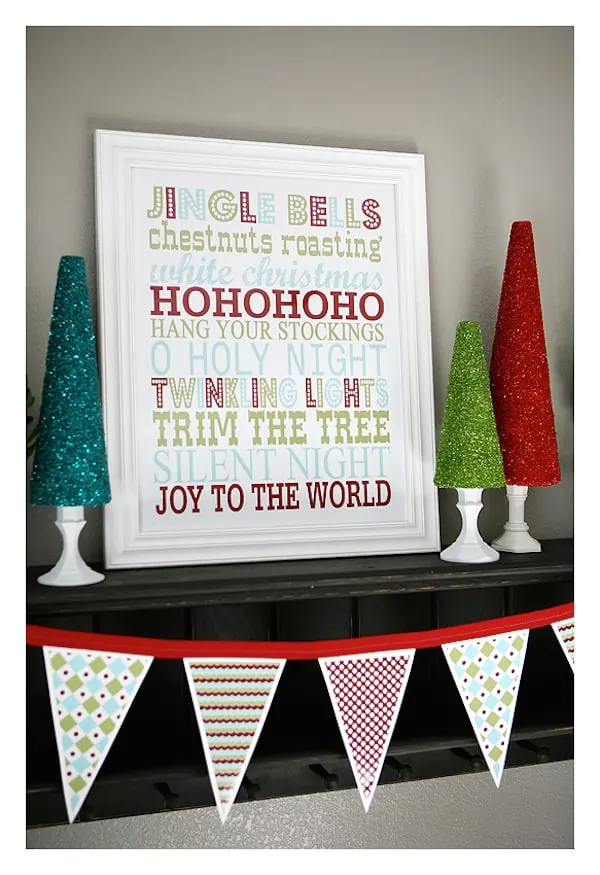 Now onto the banner . . .
You'll need to download and print the pennants on white cardstock. There are three per page so print as many as you like. Then gather some bias tape and adhesive and follow the simple steps we recently shared in a tutorial here.
Download Christmas Banner Here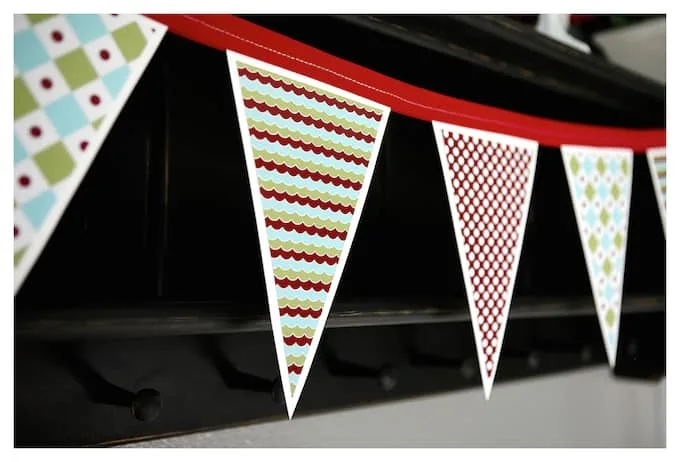 After the work is done, find a fireplace mantle or your favorite shelf and do a little arranging. Want to add some glitter trees? Get the how-to here. They are so simple and fun!
There you have it – Christmas decorations in a jiff. Hope you can put these free Christmas printables to good use!
Thanks so much for having us Amy!
---
If you like this printable, check out this FREE holiday stationery set we also have available! Includes tags and a sign as well: