Make a small DIY jewelry holder you can display on your wall and easily grab-and-go in the morning. Personalize with any images you like!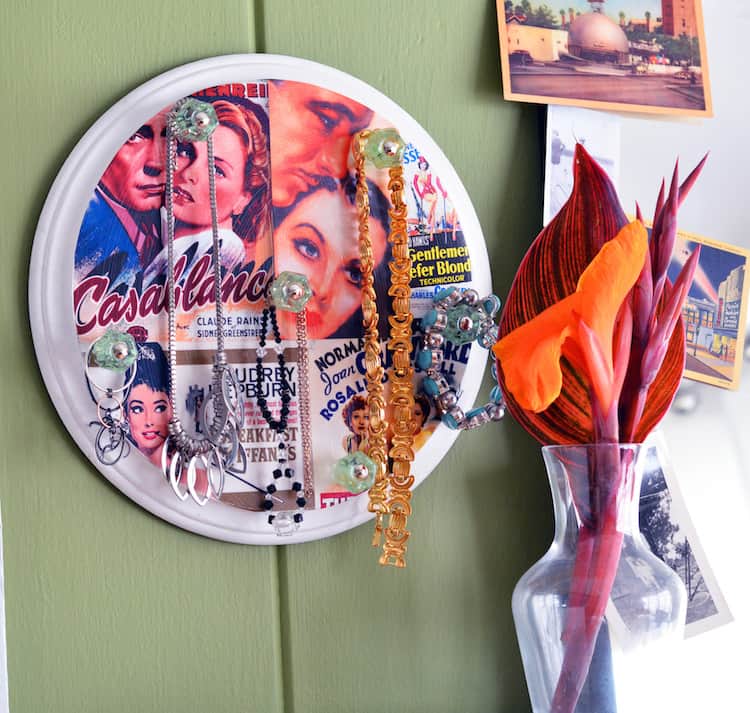 Hi, it's David from Cheltenham Road.
My friend Karla is a true TCM (Turner Classic Movies) addict. If it's in black and white (and sometimes color), she is THERE for it.
One of the great benefits of having a home workshop is being able to do projects for friends! When my pal Karla asked me if I could make her a small jewelry holder, I was more than happy to help.
Her only qualifications were that it could hang on the wall for a quick grab-and-go in the morning, Since she loves the glamour of old movies, we thought we'd bring that into the theme of the project.
This DIY jewelry holder turned out to be easy to make and pretty inexpensive – here is how we did it.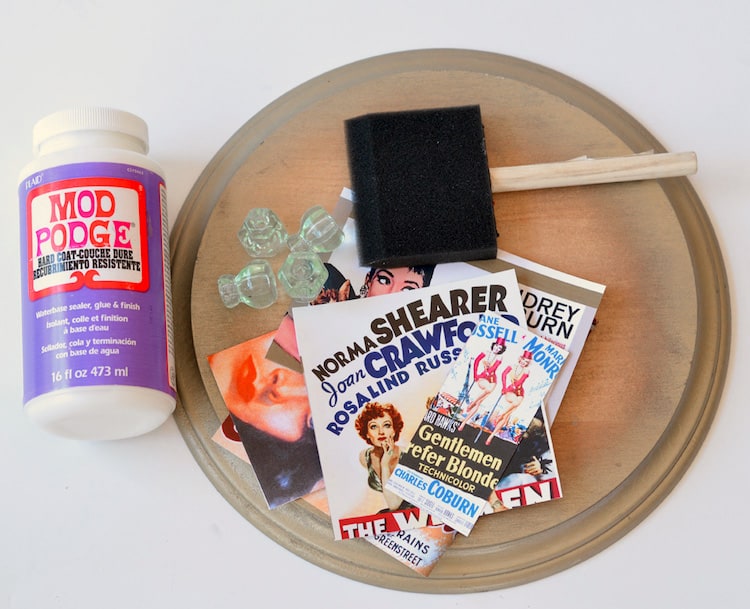 DIY Jewelry Holder
Gather These Supplies
Wood plaque from Michaels
Vintage glass knobs – 6, (ordered online from D Lawless Hardware)
Matte Mod Podge
Old movie poster printouts (we scanned a book)
Foam brush
Sandpaper
White paint
Tools
Pencil
Electric drill with appropriate bit
Scissors
Since just the edges of the plaque were going to show we gave them a light sanding, painted them white and set it aside to dry.
Circles are always tricky for me. I can never print on paper large enough, and it's hard to get the perfect measurement.
This time, after laying out the collage I just ran my finger along the edge of the plaque and cut out along the crease.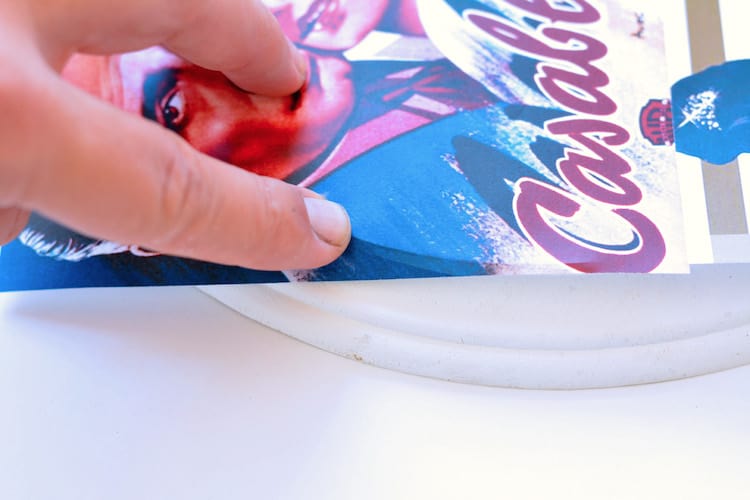 (No, my career as a hand model has not taken off like I'd hoped. Why do you ask?)
I cut the curve just a little bit larger to give myself some wiggle room . . . because I can always trim away a little excess from my jewelry holder after the Mod Podge dries.
I used the Matte Mod Podge to assemble the collage and set it aside to dry thoroughly.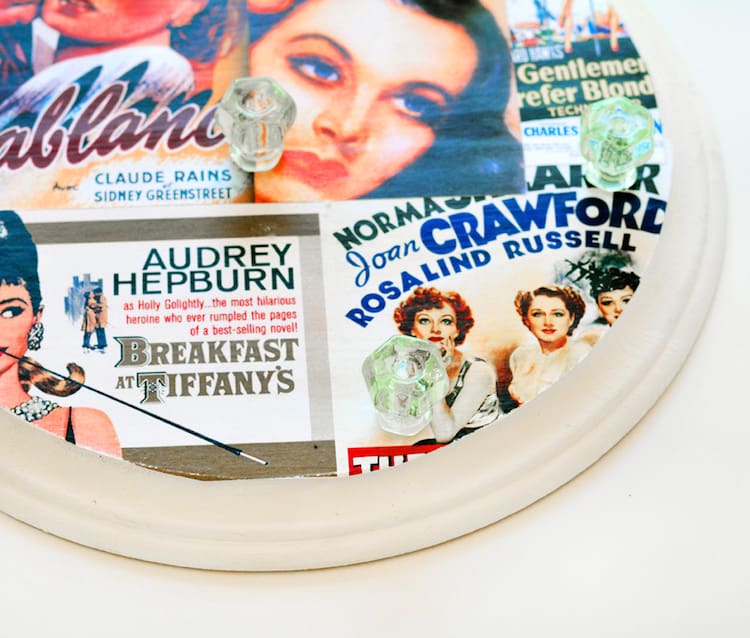 Figuring out where the knobs would go took some playing around. Karla, of course, wanted there to be room for jewelry to hang and be readily accessible but I wasn't keen on putting a knob in Ingrid Bergman's eye or something.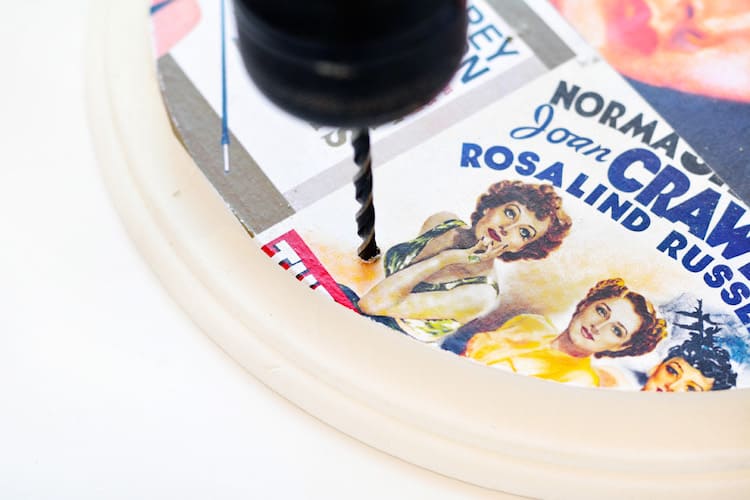 Once I'd figured out the placement I lightly marked the spots with a pencil and drilled holes for the bolts (the knobs we used are held on with thin bolts).
I used Hard Coat Mod Podge to give the collage a final seal – I wanted to make sure we had a nice sturdy surface – and let it dry.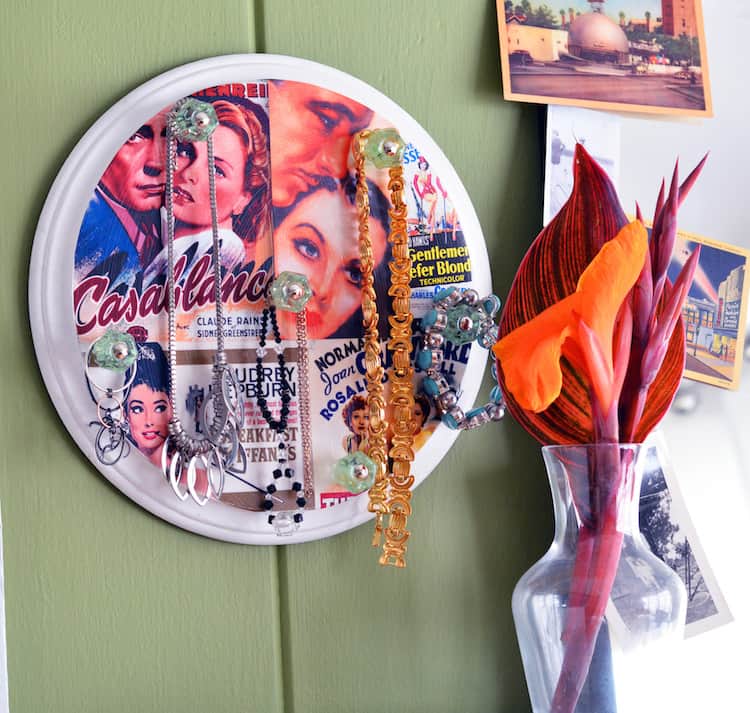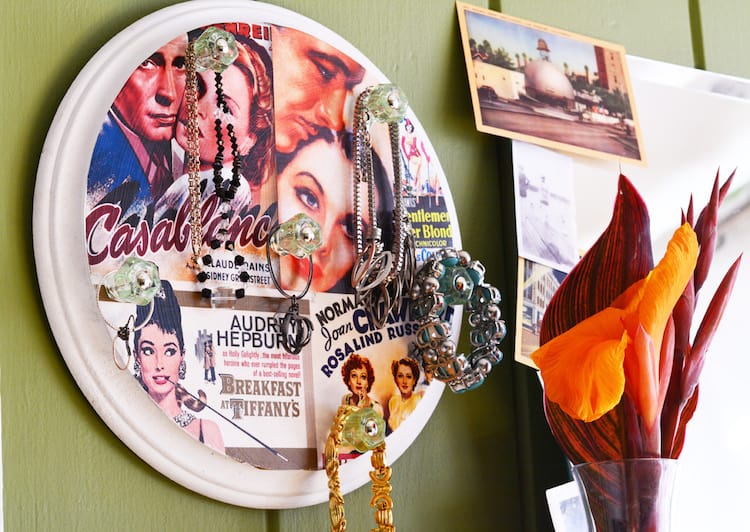 After that it was simply a matter of attaching the knobs and we were done!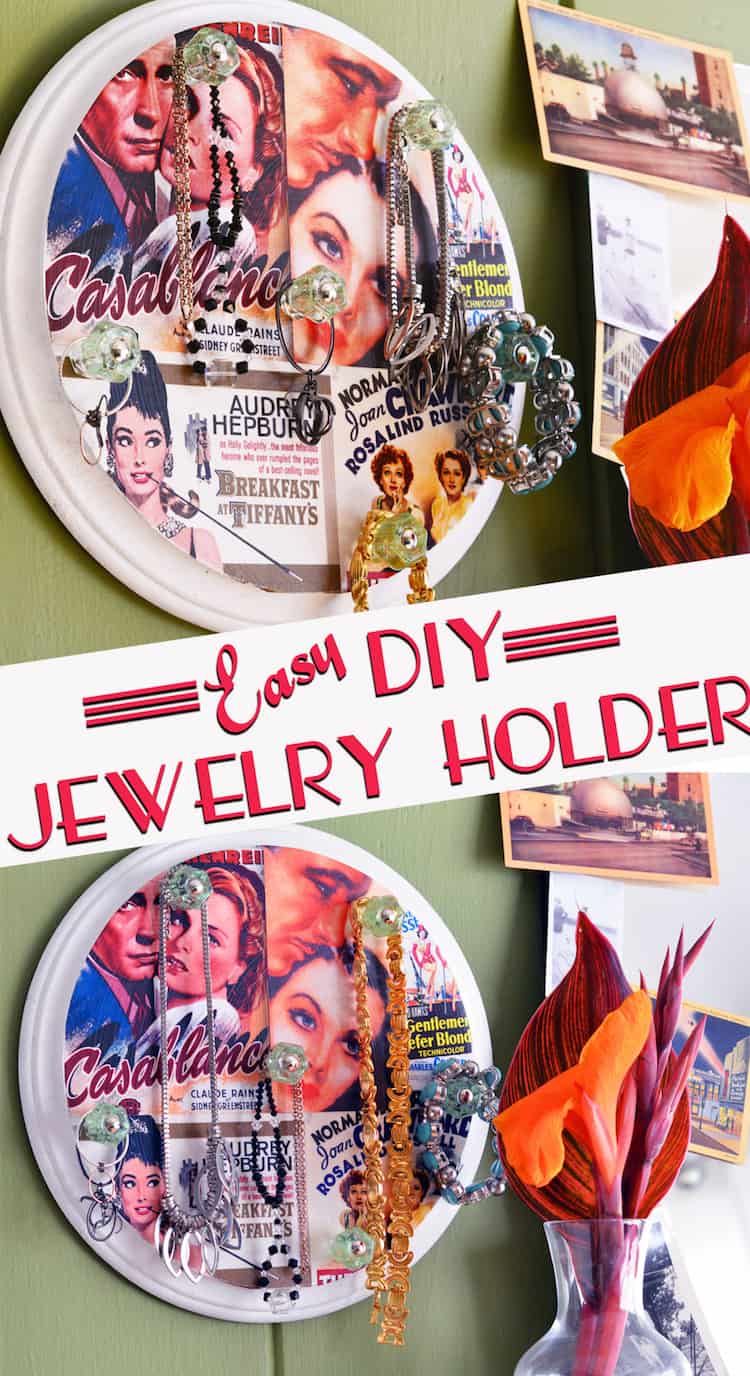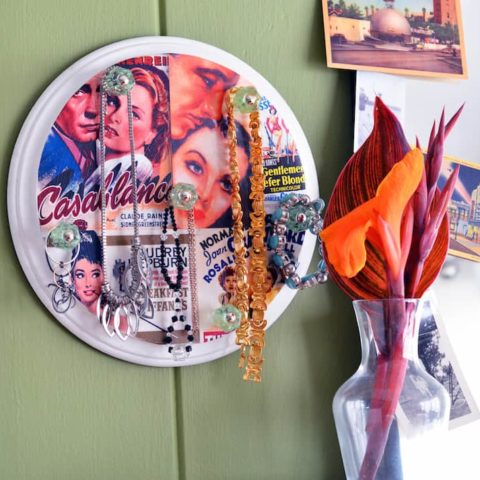 DIY Jewelry Holder
Total Time:
1 hour
15 minutes
Learn how to make a wooden jewelry holder that can hang on the wall! Make this with any theme paper you like.
Materials
Wood plaque
White paint
Vintage glass knobs - 6
Hard Coat Mod Podge
Matte Mod Podge
Old movie poster printouts
Sandpaper
Tools
Foam brush
Drill with bits
Scissors
Craft knife
Pencil
Instructions
Give the edges of the plaque a light sanding and wipe away the dust. Paint white and allow to dry. Paint multiple coats as needed.
Lay the printed collage over the top of the plaque and use your fingernail to mark the cutting line all the way around. Cut out along the crease.
Use the Mod Podge Matte to attach the collage to the plaque. Apply a layer of Mod Podge to the back of the paper as well as the front of the plaque. Smoothe the paper down and let dry for 15-20 minutes.
Apply several coats of Mod Podge Matte over the top and let dry. Trim any excess paper with a craft knife.
Notes
If you need to use multiple pieces of paper for your collage, you can print them out and tape them together - and Mod Podge them down with the tape.
---
Notes/Thoughts
When you drill the holes for the knobs the drill bit will tear up some of the paper but no worries, the base of the knob will cover it up.
We used scans of old movie posters but you could theme this to anything – comics, shoes, cameras – and of course any scrap paper would work too.
We may find, down-the-line, that Karla needs some larger knobs (that sounds odd . .) for chunkier jewelry. That would be an easy swap.
And finally, of course we used a round plaque but any shape that suited the room would be perfect.
What do you think of this wooden jewelry holder? I'd love to know in the comments! I'd also love for you to check out these other organization projects: