If you are looking for a really fun dollar store craft, this DIY diva mirror is just the ticket. I revamped it with pretty paper, paint and Mod Podge.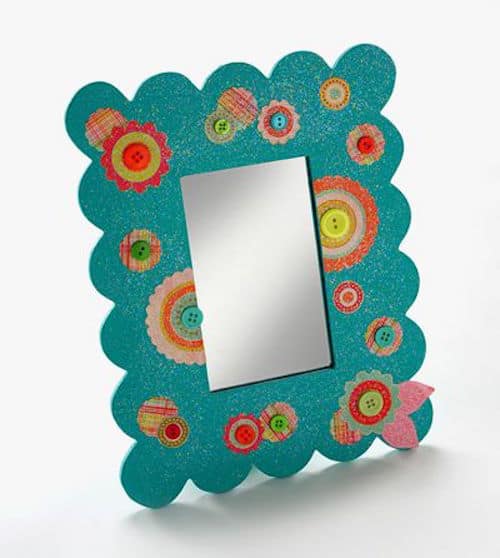 I've noticed recently that one thing the dollar store has copious amounts of (besides frames and wreaths. Oh, and fake flowers) is mirrors.
I grabbed one with the intention of fixing it up with items in my stash – revamping something from the dollar store is a great way to use up extra supplies, including paper and fabric.
Here's what resulted, and I hope you enjoy my dollar store craft. What have you crafted lately with dollar store supplies?
How to Paint Dollar Store Mirrors
Gather These Supplies
Mirror – any kind, just as long as it's not plastic
FolkArt acrylic paint – Aqua
Sparkle Mod Podge
Scrapbook paper – colors and patterns of your choice
Buttons – to coordinate with the paper
Paintbrush
Scissors
Sandpaper
Mini screwdriver set – to remove parts
Here's my mirror. And just a note – I tried making it look like it was my hair but it didn't work.
My mirror had some sort of a coating on it, so I removed all of the little parts and sanded it. Wipe away the sanding dust with a tack cloth or wet paper towel.
Paint the wood with Aqua. You will need several coats. Set aside to dry.
Cut out shapes from your paper.
Start laying out the shapes on the mirror to figure out your design. I also used my favorite scallop punch to create some shapes.
Mod Podge the shapes to the mirror and let them dry for about 15 – 20 minutes.
Add a top coat of Sparkle Mod Podge so that your mirror really blings.
Add buttons with craft glue. Let the whole thing dry before replacing the parts.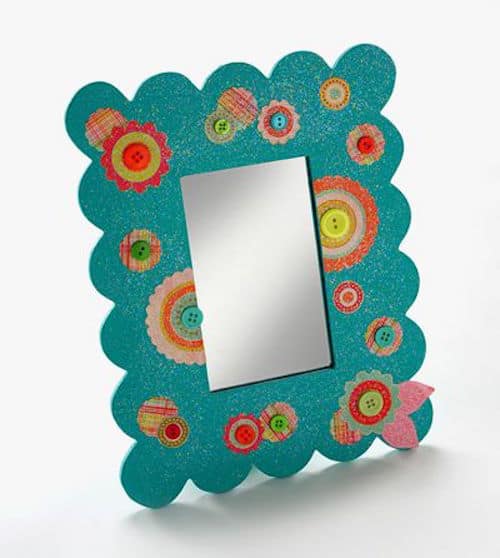 A brand new diva mirror – what a fun dollar store craft! You can hang in a little girl's room, if you want. A revamped mirror like this would be great for a bathroom as well.
For more amazing budget ideas, visit our Dollar Store Crafts. Warning though: you'll be lost for hours!