Create budget friendly watercolor wall art with Mod Podge and acrylic paint. You can get this pretty look in three simple steps, and it's great for newbie crafters.
Skills Required: Beginner. If you've never crafted before, you can still do this project. The part I recommend trying before you do the final is the stenciling. Stenciling takes some practice – but the nice part is that this way of doing it is forgiving. Don't forget to check out my tips and the video in the post.
I took a lot of art classes in high school, and I remember a lot about them. I was planning for a long time to be an art major in college, and so I tried to get a good introduction in high school. Plus I always liked crafting (which I know art is not) and being creative!
A BFA didn't end up being my destiny (I have a Forestry degree – I know). But a lot of what I learned I carried with me. And one of the things that I always remember is our lesson on watercolors.
I did a sample piece in that lesson with tulips . . . and we practiced a variety of techniques in a patchwork pattern on our watercolor paper. The funny thing is that I wasn't really thrilled with it, and it was just a sample anyway!
But my mom liked it. And framed it. And still has it in her house to this day, which I appreciate.
I really like watercolor in general, which is why I'm excited to share this watercolor wall art with you. This tutorial uses Mod Podge, and honestly is kind of a hack. There's a video too in the post, so don't forget to watch it for a visual.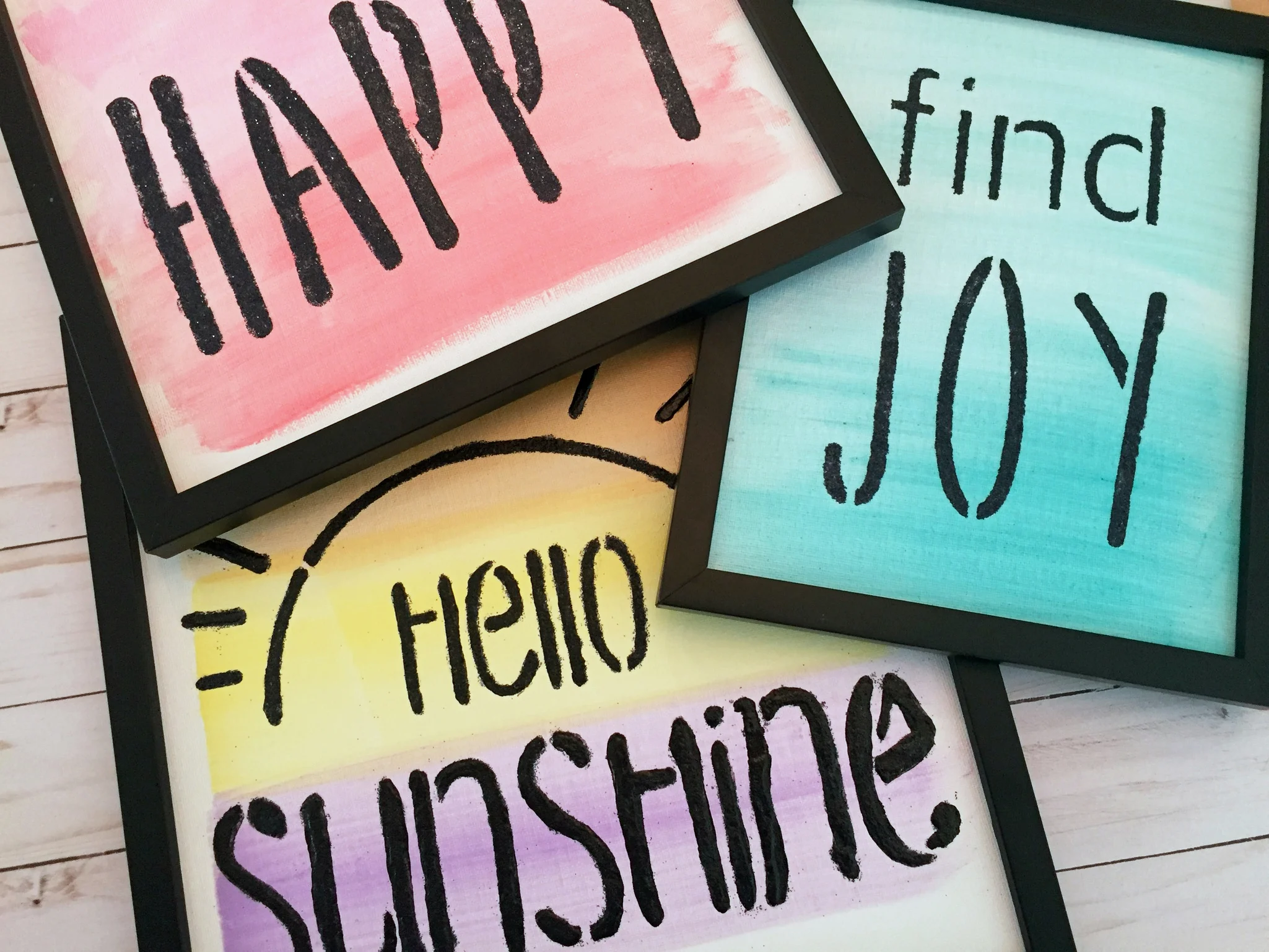 Watercolor Canvas Art
This tutorial is for a VERY basic watercolor effect. This effect provides a nice background for other things on top, like stenciling names or sayings. This watercolor wall art is perfect for room decor. Even teens or tweens can make this for themselves!
You're going to make this canvas art in three easy steps. You'll mix your faux watercolors, then you're going to paint the canvas. After that, you'll add the sayings. It's that simple.
Are you ready to get the tutorial? Keep reading!
Gather These Supplies
Canvas panels – you could also use watercolor paper
FolkArt Multisurface Paint – Mandarin Satin Pearl, Pale Yellow, Aqua, Light Lavender (or colors of your choice)
Mod Podge Satin (you could also use the Gloss or Matte formulas)
Disposable bowls
Ultrafine black glitter
Tape
Paintbrushes
To begin, you will need one bowl and one paintbrush per color. Lay these out on your work surface.
Mix the Paint and Mod Podge
The way to achieve the faux watercolors is by mixing paint and Mod Podge. Note that there is no exact science to this. But watercolors have blurry edges generally speaking, right?
Pour a small amount of Mod Podge into a bowl. Add a squirt of Mandarin Satin pearl. Mix to combine with a spoon or other stirring tool.
Have a piece of paper ready. When it's mixed, paint a sample on the paper and see if you like the level of pigment dilution. Add more paint for a deeper color. If it's not transparent enough, add more Mod Podge.
Repeat this process for the remaining paint colors. You're going to use these for your watercolor wall art!
Paint the Canvas Panels
Figure out your order of colors from top to bottom. Dip a brush into the mixture and paint stripes across the canvas, to the width of your choice. Allow to dry. Repeat with other colors.
PROJECT TIP: Create an ombré look by using one color of paint (with the Mod Podge). Paint from the top down. Paint one layer and light strokes towards the top. Add more layers in the middle. Paint the bottom until you have deep color.
Stencil Your Message
Tape the stencil in position. Mix 50% glitter with 50% Dimensional Magic in the fine tip bottle. Shake to combine. Carefully paint over the stencil with the glitter mixture. Work in small dots until the area is covered. Lift stencil while still wet. Allow to dry overnight.
PROJECT TIP: If you want your stencil lines more clean and crisp, check out these tips in our article on how to paint stripes (you can use Mod Podge).
You don't have to use the glitter and Dimensional Magic, but it creates a nice raised/embossed effect. You can stencil with paint. Or use vinyl on top for your saying. You have a lot of options.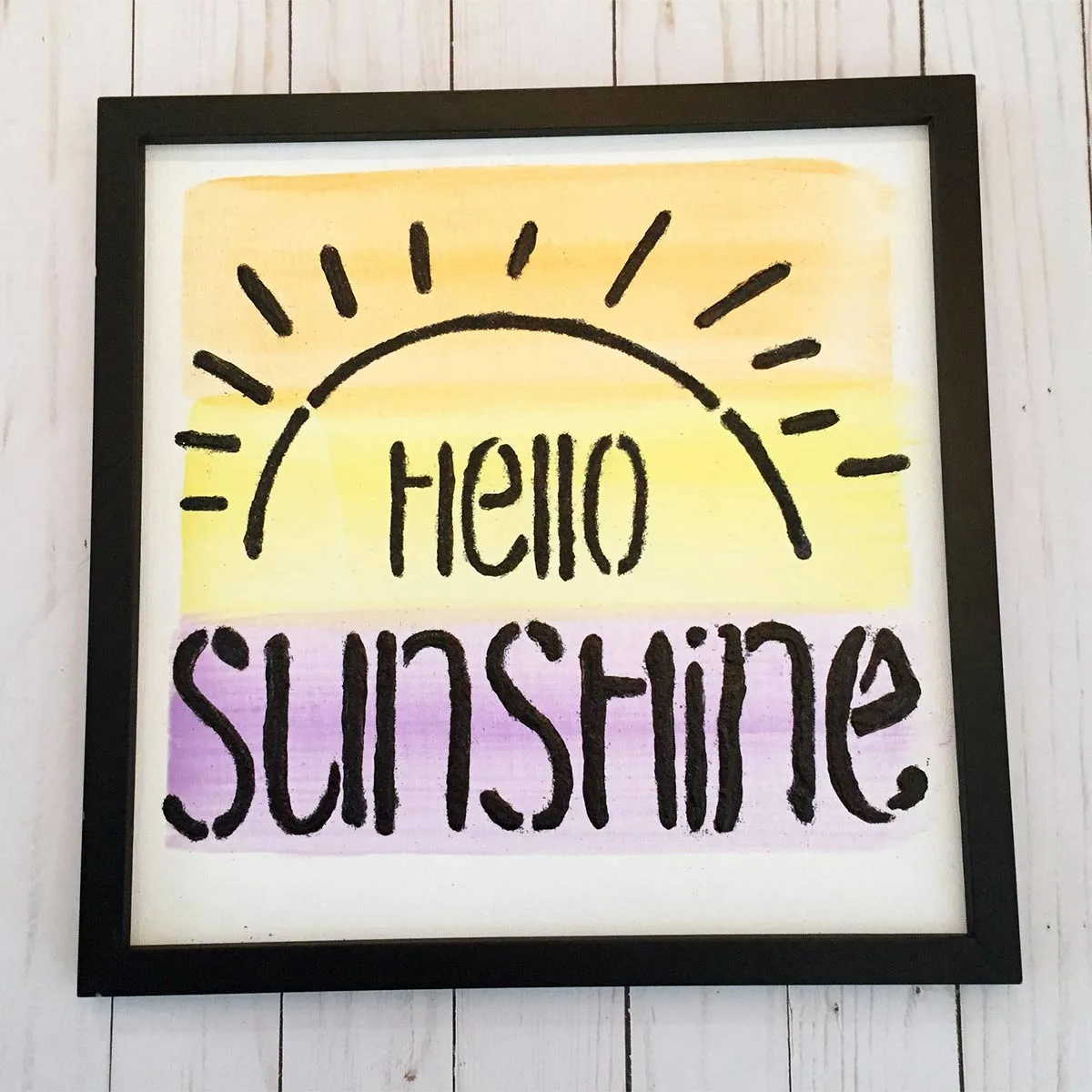 Add your watercolor artwork to a frame and enjoy!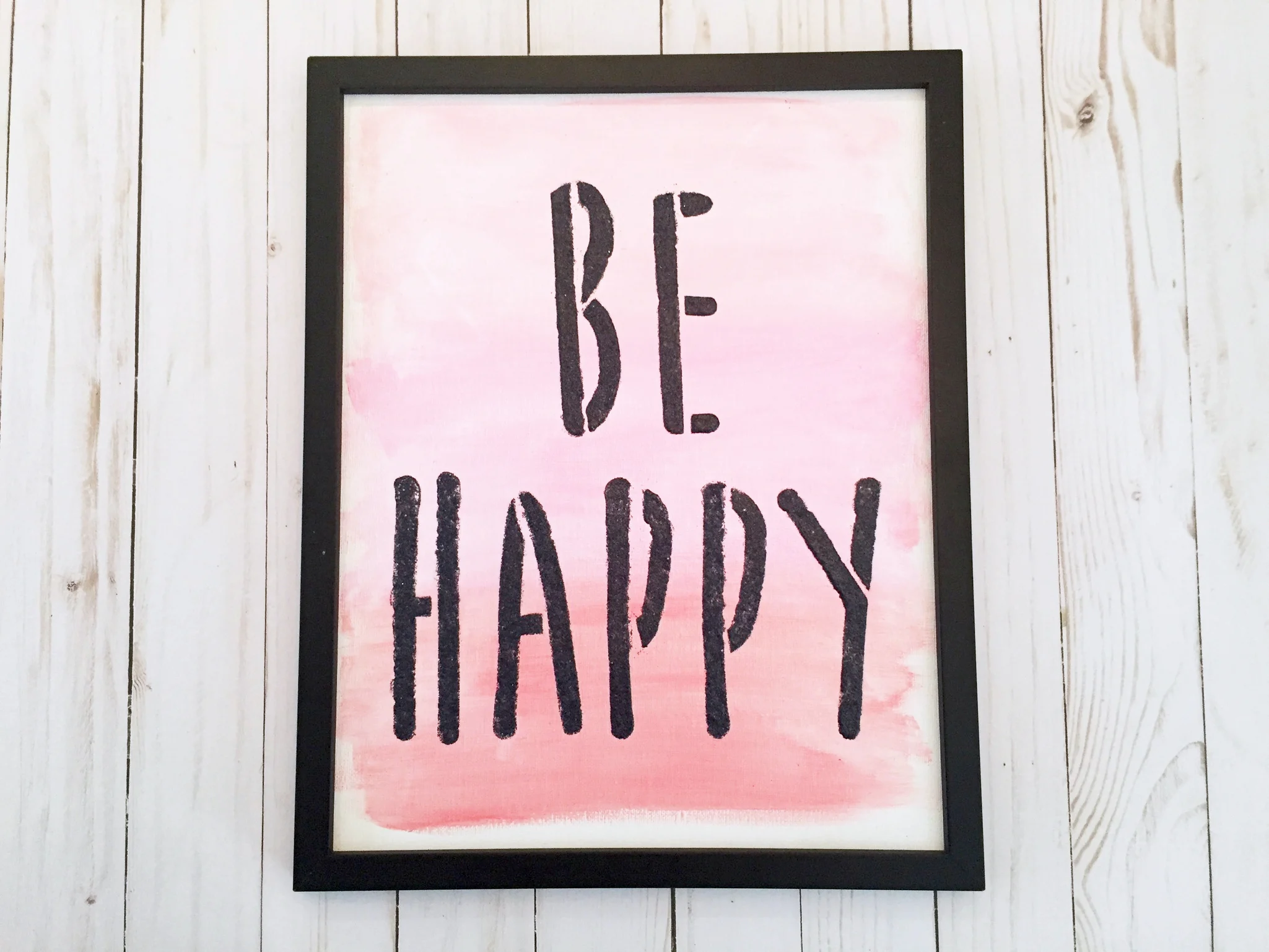 If you want to, you can paint the watercolor mixture on watercolor paper. Then you can cut it to make other things.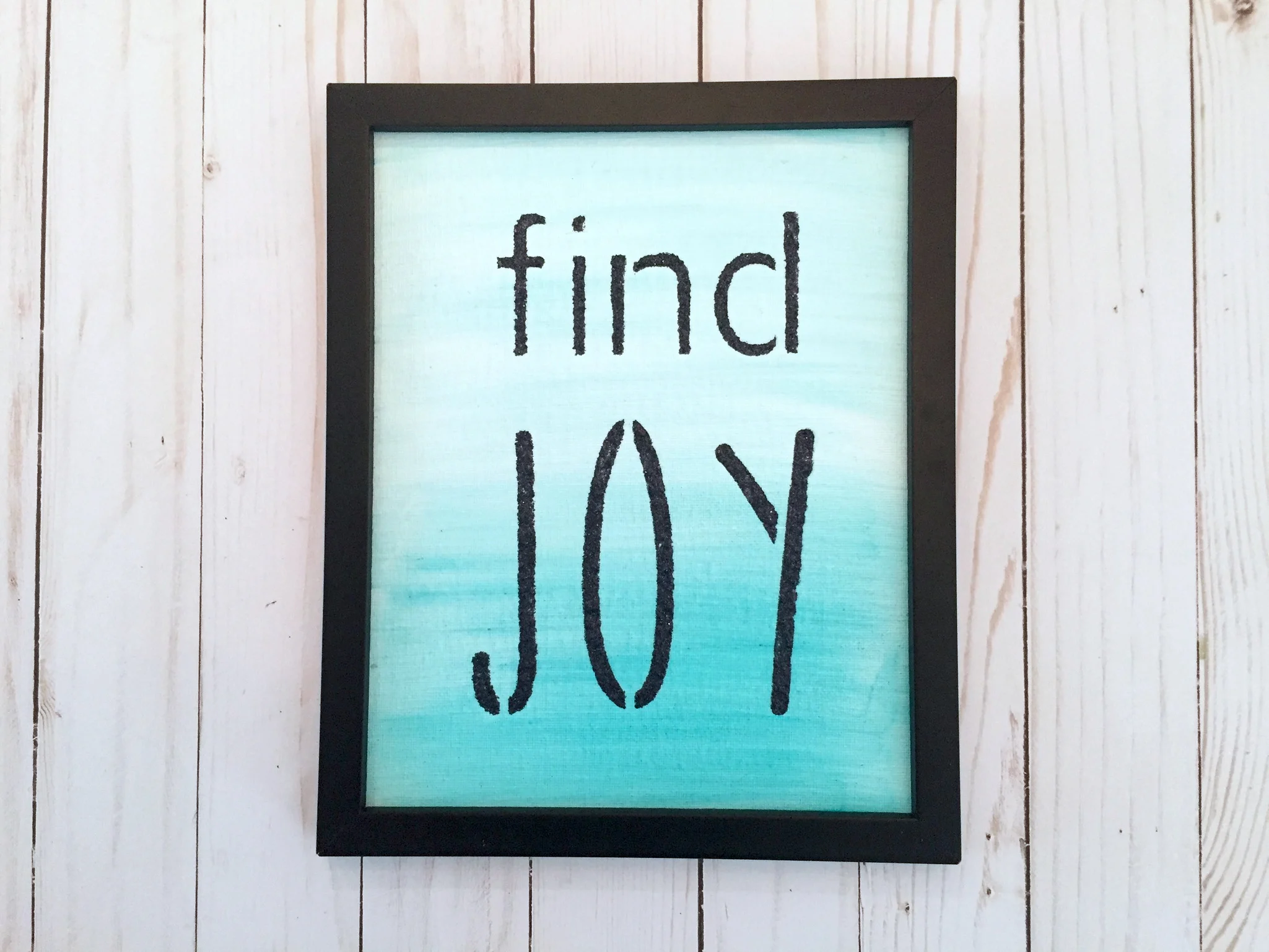 This watercolor wall art looks great as a trio! I love the sayings too. Let me know what you think in the comments!
---
If you enjoyed this canvas art, I'd love for you to check out these other ideas: