Make this fun DIY spring sign using dollar store materials! Pick your favorite colors and scrapbook papers to personalize.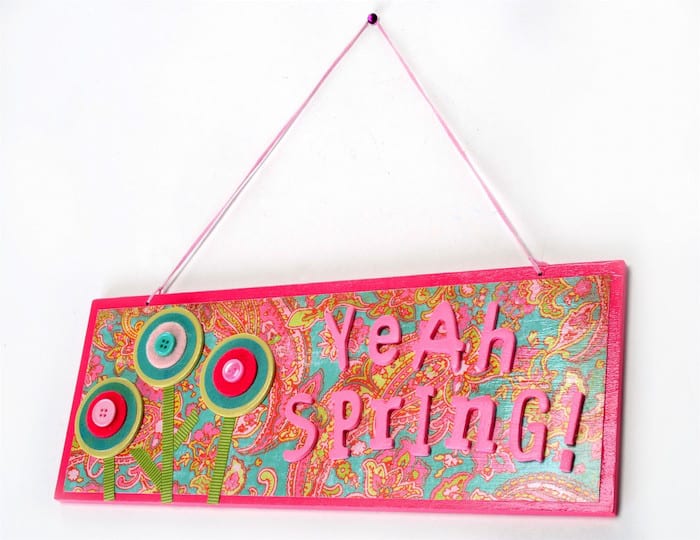 Spring is such a great season that I had to pay homage – and you know how I express myself. With interpretive dance? No. With a DIY spring sign!
You definitely need to celebrate something with Mod Podge too, so let me show you how I made this sign and then you can personalize it.
I encourage you to, whatever you do, add lollipop flowers. They are so cute and SO fun to make. So let's do this thing.
DIY Spring Sign
Gather These Supplies
Wood sign – Got mine from the Kroger Easter clearance section. $.99, baby! They have similar at the Dollar Tree
Scrapbook paper – I used two sheets of Basic Grey Gypsy
Acrylic Paint – You'll obviously want to match your paper. I used the following: FolkArt Acrylic Paint – Pink, Hot Pink, Soft Apple
Gloss Mod Podge
Wood letters to spell the saying of your choice
Felt – small
Chipboard circles – 3 one-inch diameter
Buttons – 3 coordinating
Ribbon – 12″ to make flowers stems
Flat paintbrush
Craft glue
Pencil or pen
Craft knife and mat or scissors
Sandpaper
Pink string or other to hang – 12 inches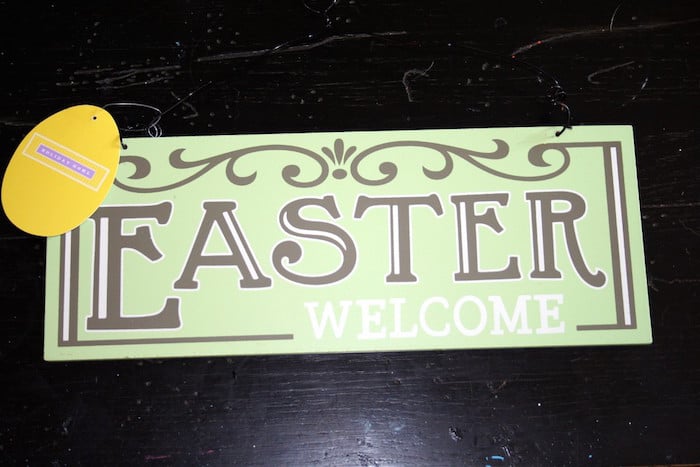 Here's the sign before I re-did it – welcome Easter! Welcome to my Mod Podge jar, that is . . . Sand the sign lightly and wipe away the sanding dust with a damp cloth.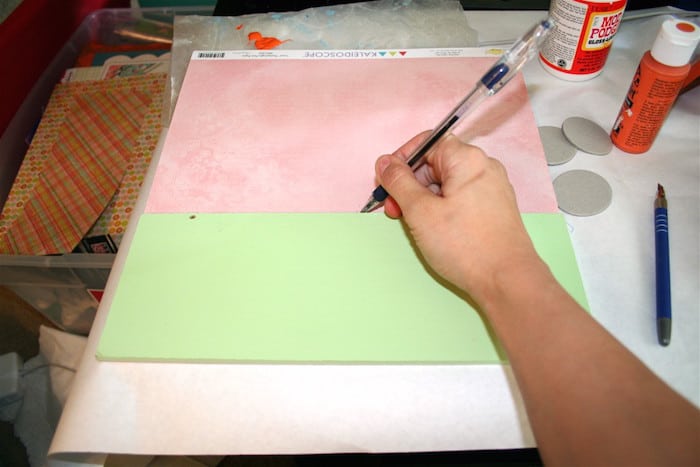 There was a black wire coming out the top of my sign – I removed it. I traced my sign, face down on the back of the paper.
I then cut the paper about 1/4″ within the tracing so that some of the paint would show around my paper when I Mod Podged it to the front. Set aside.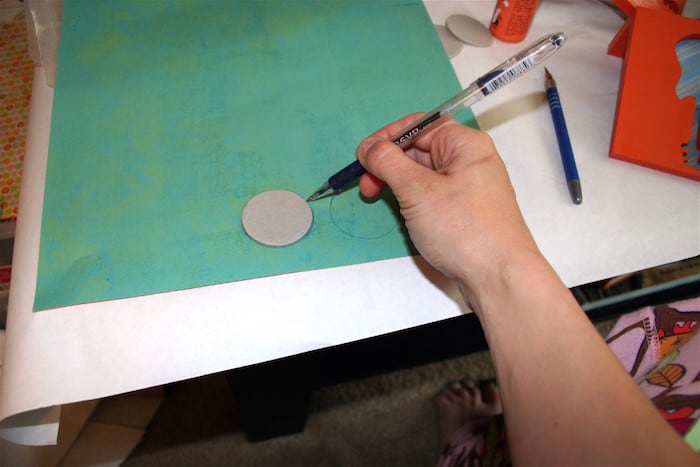 Take your chipboard circles and trace them. You should also cut these out just inside the lines so that some of the paint peeks out the side. Want perfect circles? Use a Sizzix Big Shot or punch (or similar). Set aside.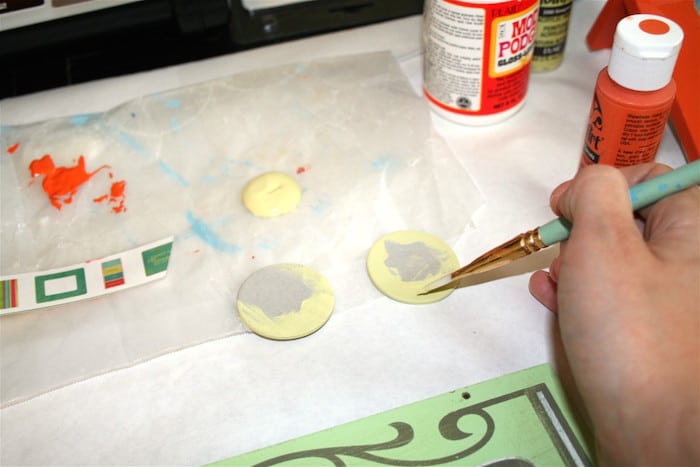 Paint your chipboard circles with Soft Apple. Paint the edges and around the tops until completely coated. Set aside to dry.
At this point, choose wooden letters for the saying of your choice and paint them. I chose "Yeah Spring!" and painted them Pink. Set those aside to dry as well.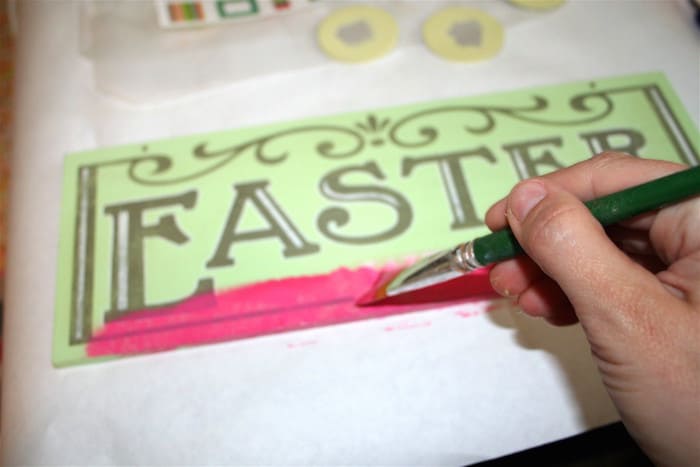 Paint the sign with your FolkArt color of choice (mine is Hot Pink). I painted the edges, back and sides until everything was fully covered. Allow to dry.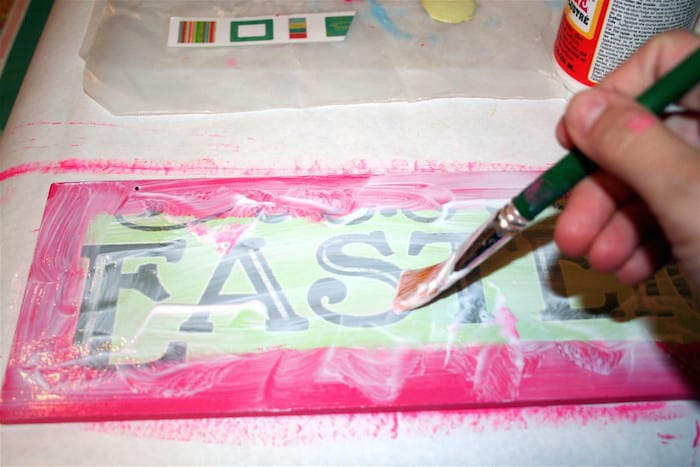 Once the sign is dry, you are ready to Mod Podge. Spread Mod Podge over the front of the sign in a medium layer.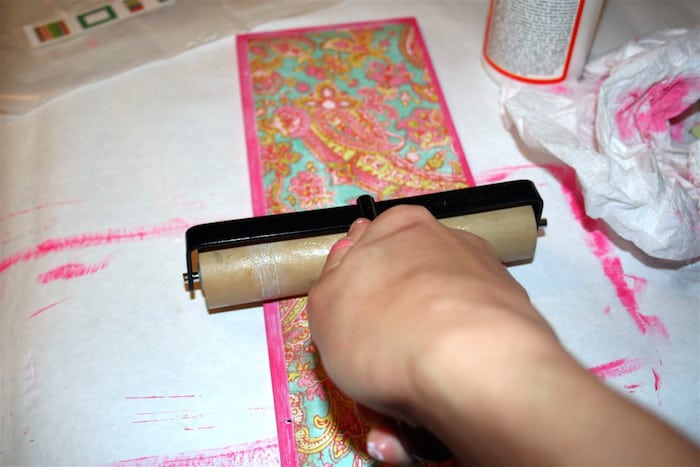 Place your paper over the top and smooth down thoroughly, for several minutes. A brayer is a great tool; I highly recommend one. Allow to dry for 15 – 20 minutes.
While this is drying, go back and Mod Podge the small paper circles you cut out to the fronts of the painted circle shapes. Allow to dry.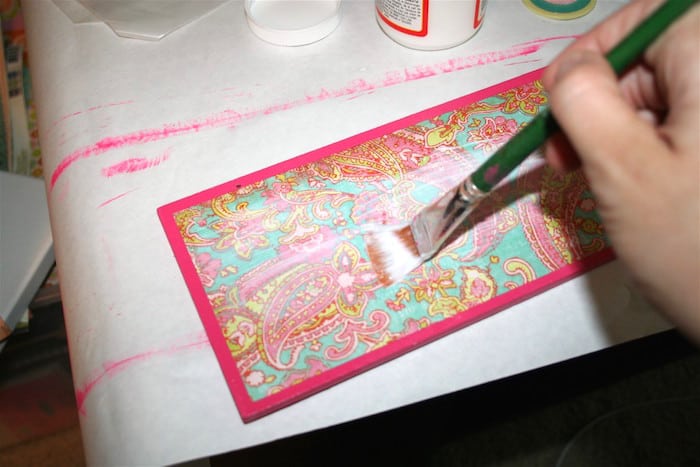 Spread a medium layer of Mod Podge over the top. Allow to dry and then coat the back and the front again. Give another coat over the entire plaque and allow to dry.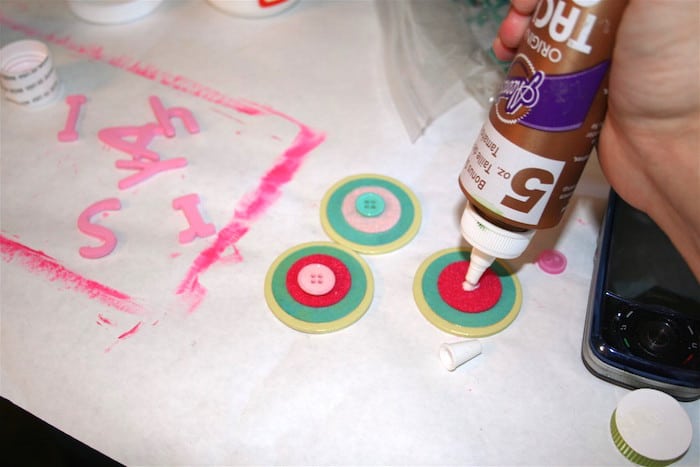 Your letters are dry and so are your circles. It's time to assemble everything! I cut small felt circles to fit the centers of my chipboard circles, and then glued those and the buttons to the fronts to make flowers.
Use the tacky glue to attach the letters and the flowers in the place that you want them.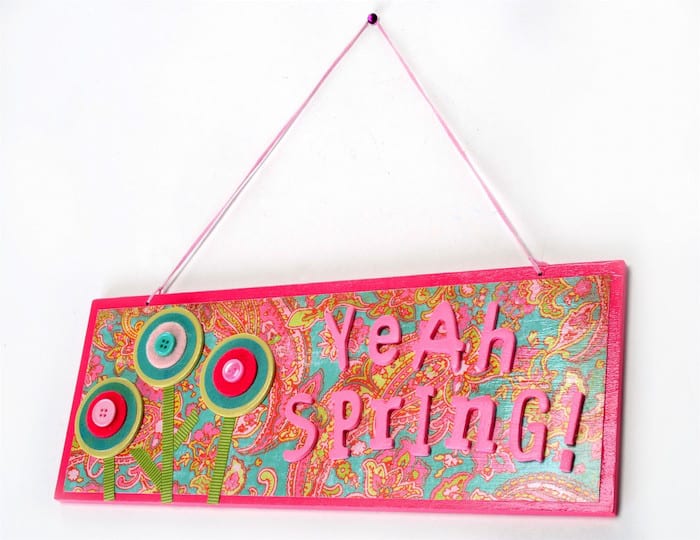 To finish your DIY spring sign, glue ribbon to make flower stems and then add a string to hang. You've done it!
---
If you enjoyed this spring project, I'd love for you to check out these other ideas: