I made this unique key wall art from an old portrait. I added my favorite paint colors and Mod Podged the background with fabric – I love it!
Skills Required: None. You're just going to be doing a lot of painting with a brush so you need patience. But it's not hard at all, so you don't need any prior craft experience.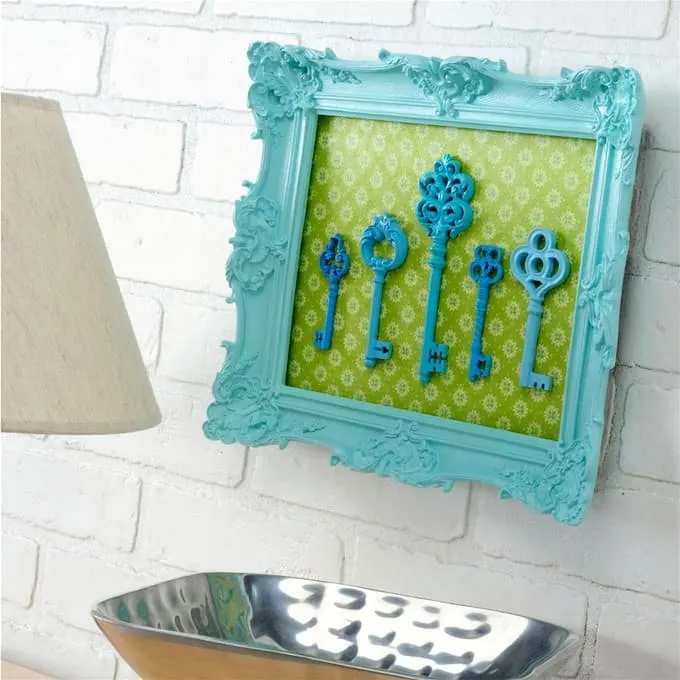 My friend LollyChops is going to love this DIY wall art project – it uses shades of her most favorite color, TEAL! I found this sad little piece of key art, broken and golden, at Hobby Lobby.
I'm sure it wasn't supposed to be broken, and what likely happened is someone said "Do these keys come off?" and then tried it. Not that I've done that myself.
I'm not really a gold person, so I decided to brighten up this key art with some paint and Mod Podge. Here's how I made my key portrait.
Key Wall Decor
Gather These Supplies
Sad wall art
FolkArt Acrylic Paint – Jamaican Sea, Ocean Cruise, Calypso Sky, Titanium White (optional)
Apple Barrel Acrylic Paint – Pool Blue, Cool Blue, Regency Blue
Fabric, coordinating piece to cover your background
Paintbrushes, one small and one medium
Craft glue
Remove the Keys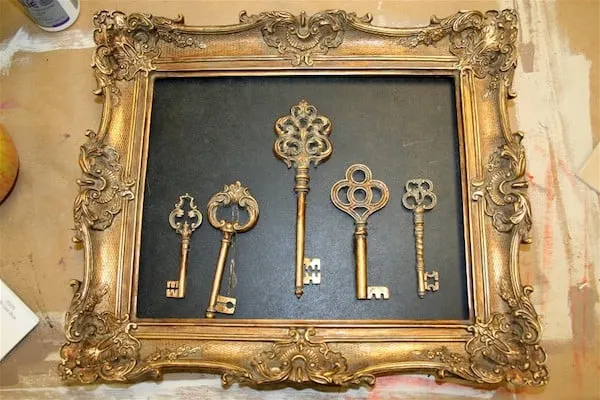 Start with a fun piece of wall art. It can be broken. Or not.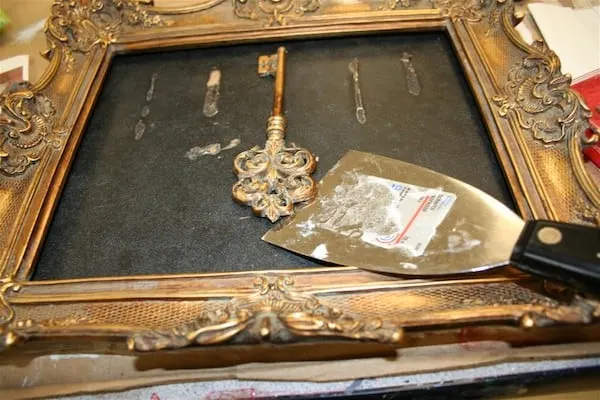 Take the goods off. I had to pry slowly so as not to break my keys. Patience is a virtue, my friends. Remove the back of the portrait from the frame.
Paint and Add Fabric to the Background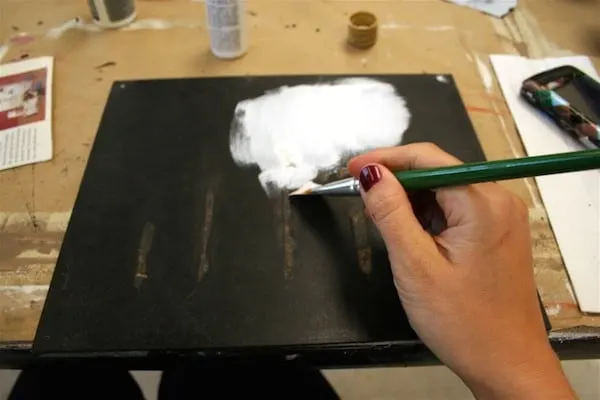 Sand down the background (if you need to) and then paint it Titanium White. My background was dark, so it was necessary to paint a lighter color so that the background doesn't show through. It will definitely show through if the background is dark and the fabric isn't thick. Allow to dry.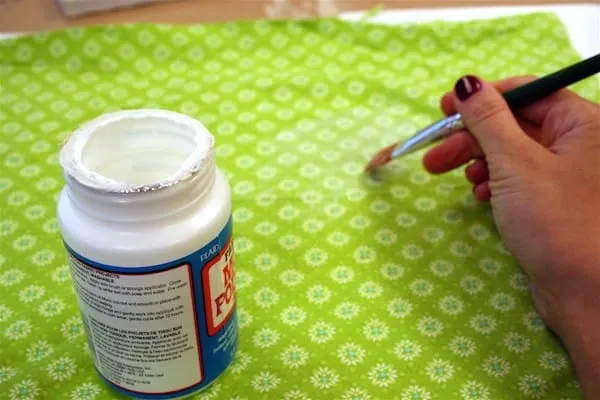 Make sure your fabric is washed, dried and ironed. Prepare the fabric with Mod Podge – this means putting the fabric down on a non-stick surface and applying a medium layer of Mod Podge.
Allow to dry. You can now cut the fabric without it fraying, and it's easier to apply to a finished surface because it won't wrinkle.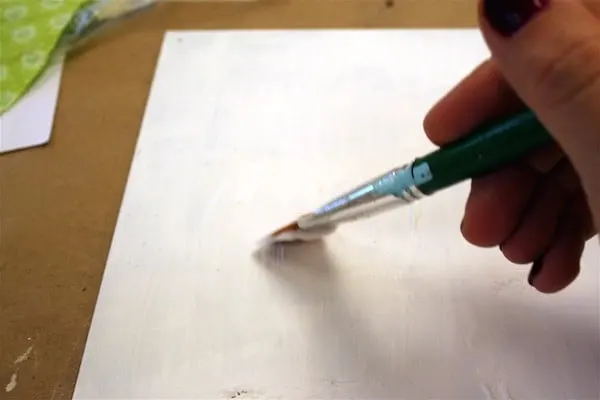 Here I'm applying Mod Podge to the back piece. Apply a medium layer and then lay your fabric down – smooth, smooth and smooth!
Push all of the air bubbles out and wipe away any excess Mod Podge that comes out the sides. Allow to dry. Once the fabric has dried to the back piece, give the top another coat of Mod Podge. Allow to dry.
Paint the Keys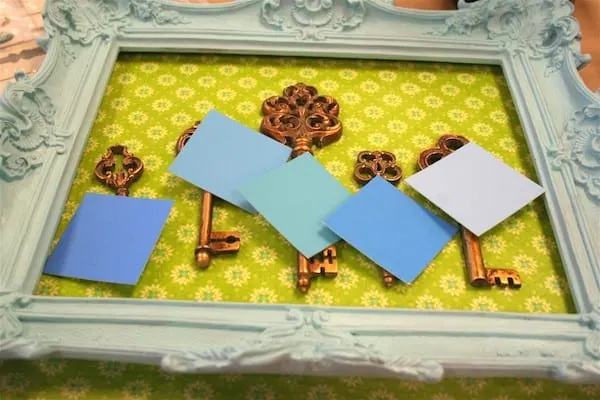 Paint your frame with Jamaican Sea. I used the tiny brush and gave it several coats. It went on surprisingly well, and I really enjoyed the painting. Very cathartic.
TIP ALERT: So what am I doing in the photo above? It's a technique I'd like to share with you. I've laid the frame over the background, put the keys back in and then put some color chips down to figure out what colors I wanted to paint my keys and in what order.
MAKE COLOR CHIPS for your paint colors now if you don't have them – even if you simply paint strokes in a notebook.
It will help you immensely when you put color palettes together or are trying to match something, because colors in the bottle DO NOT look the same when dry. I'm done preaching now.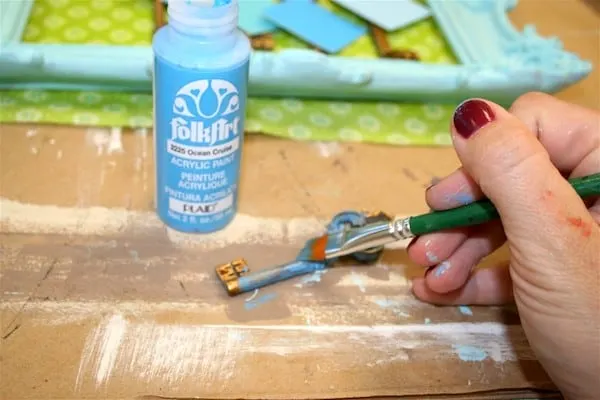 Paint your keys with your paint colors. It's going to take several coats, but it's fun.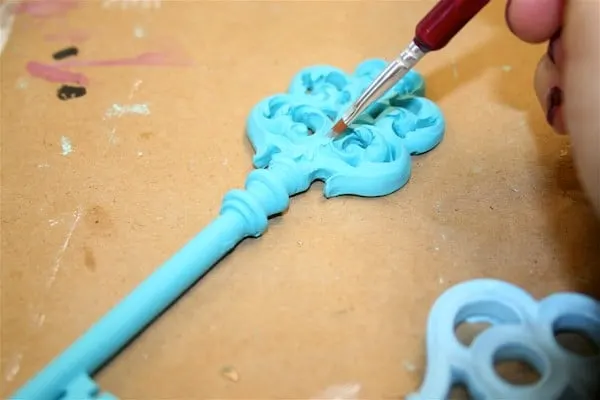 Don't forget to use your small brush to paint inside the little grooves and holes.
Glue the Keys Down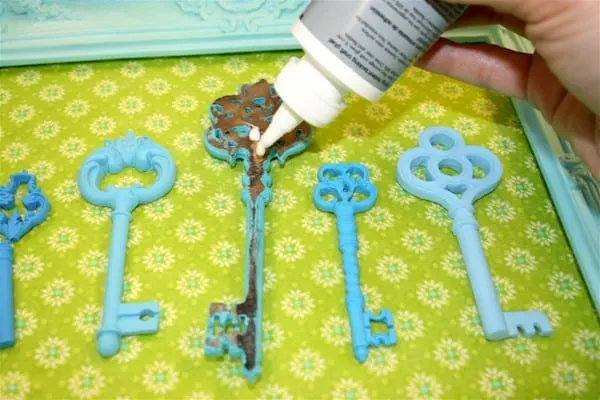 Glue the keys down with your craft glue. Allow your DIY wall art to dry and then give the key portrait several coats of Mod Podge Gloss sealer. It shines and then it's chip proof.
I'm so excited about my easy key wall art that I can barely stand it. Do you like it on my wall?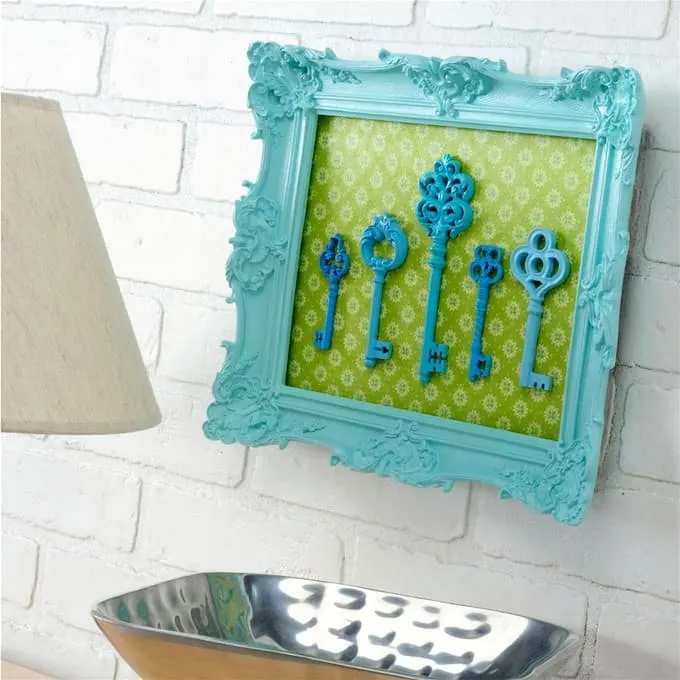 If you like this DIY wall art, check out more in our archives here! I'd also love for you to check out these other ideas: