Decorating your fireplace mantel for Christmas doesn't have to be difficult or expensive. Get inspired by these 45+ DIY Christmas mantel decor ideas. Plus get tips on what you will need and how to get started!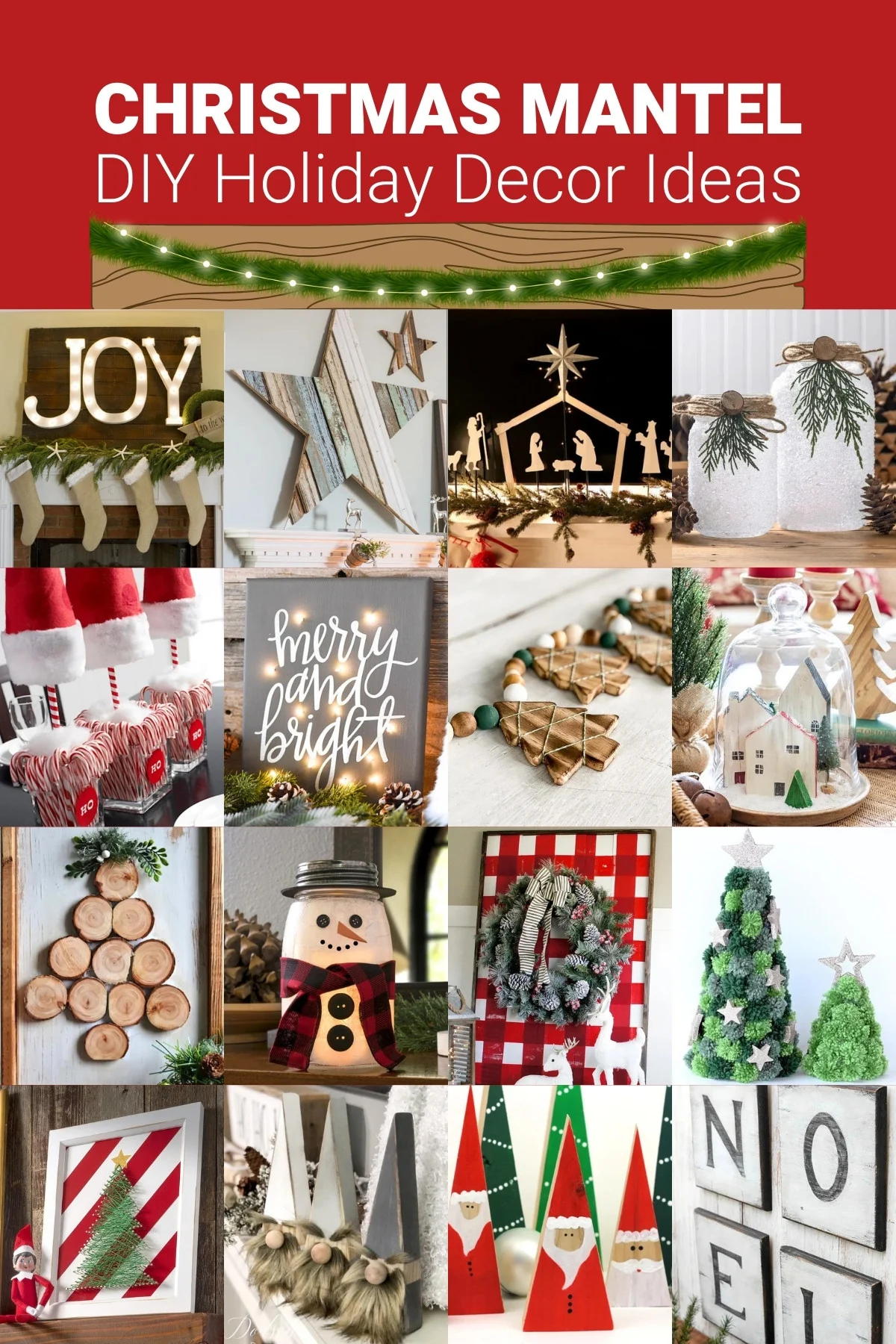 How to Decorate a Mantel for Christmas
Decorating a mantel for Christmas really isn't much different than decorating it for the rest of the year, but there are some things to take into consideration. There are FIVE necessities for an attractive holiday mantel:
Theme
Pick a theme for your mantel decorations. It can be as simple as red and gold, winter wonderland, rustic holiday, or glamorous vibe. Once you have your theme, make sure each item you add goes with the theme.
Height
You will want to make sure you have items at varying heights. Most decorated mantels tend to have one large focal point in the middle. A mirror, a favorite art piece, an oversized clock, or a wreath are some good choices.

After you have your focal point, add items at varying heights on the rest of the mantel. An example of what you don't want to do is to have a large mirror with a mantel full of little votive candles. You need something to bring your eye down from the height of the mirror.
Space
Keep in mind that less is more. Although layering items from back to front can be great, make sure you can see the pieces in the back. Too many items can also be an issue. It is just like Coco Chanel said "Before you leave the house, look in the mirror and take one thing off."
If you finish your mantel decorations and think it looks cluttered, start removing a piece at a time until it feels like everything has 'room to breath'.
Balance
Making sure that your mantel decorations have balance doesn't mean that it needs to be perfectly symmetrical with identical items on the left and right. It just means that if you have a few mid-height items on the right side, try to balance that out with some mid-height items on the left.
Light
Once you make your mantel look amazing, you are going to want to see it all day long, right? This means that you should include some lighting. You could have mini LED lights, candles, a string of Christmas lights, luminaries, or even a lit up marquee sign!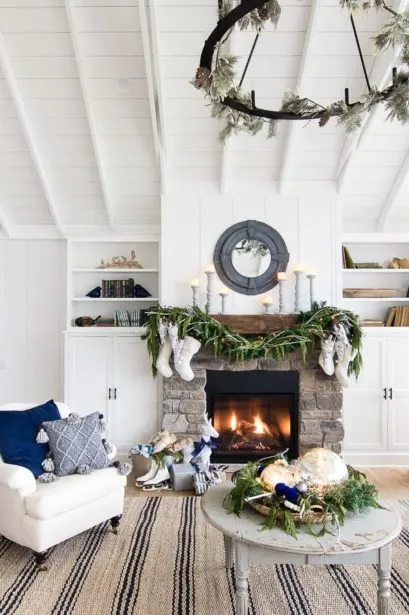 Decorating with a TV on the Fireplace
A television above the fireplace is common, so it's an issue that many people have when decorating their mantel. You don't want to block the TV, but you don't want a big black rectangle as your focal point in the center when the TV is off.
First, make sure that when you hang your TV, you leave some room below it for decorations. Then you can decide which of the following ideas you want to try:
Option 1: Make it into art. Display a favorite photo or art piece on the screen itself. Go to YouTube and search for 'TV art' and choose one you like. Problem solved! You could even add a frame around your TV.
Option 2: Cover it. Add barn doors or shutters that can be opened when you watch TV and closed when the TV is off.
Option 3: Use it as a backdrop. Think of it as a large black rectangle and add something lightweight and light in color in front of it. It will pop in front of the screen, and will be easy to remove since it isn't heavy. Check out #18 on my list below for an example!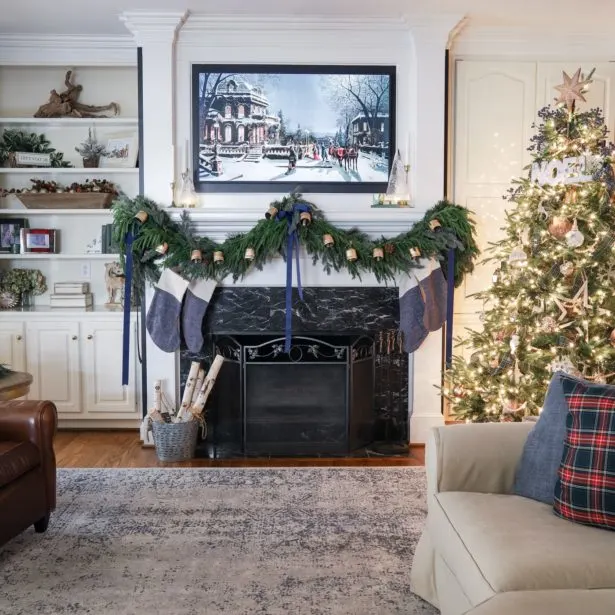 Are you ready to get some inspiration? Check out the ideas below, then let me know what you think in the comments!
Christmas Mantel Decor
Decorating your fireplace mantel for Christmas doesn't have to be difficult or expensive. Get inspired by these 45+ DIY Christmas mantel ideas!
---
Are you inspired to decorate your mantel for Christmas this year? You should definitely check out these other DIY Christmas posts: