I love using craft paint – it's one of my top crafting supplies. In this article I share my 8 favorite tips for how to use acrylic paint.
Are you wondering how to use acrylic paint? I'm thrilled to share my knowledge with you as a long-time user of acrylic craft paint. I paint nearly every Mod Podge project before the Podge goes on, and I use acrylic paint on projects that I don't decoupage as well. If I can get away with using acrylic, even on a furniture re-do, I will. Why? Because it's easy to use and it's non-toxic. It's inexpensive and clean up is simple.
I've been thinking about my most important tips on how to use acrylic paint, and I thought I would share them. Hopefully these can help you, especially if you are making home decor, gifts, wall art, or any other projects that need to look fabulous (and flawless!). These are my top tips for how to use acrylic paint.
1. Choose the right type of paint and the right color. Make sure you read the bottle carefully while you are in the store as opposed to just throwing it into your basket. I know the acrylic paint aisle at the craft store has a ton of selection, but you need to look carefully because it's better than getting the wrong thing and making multiple trips.
You should look at the bottom of a bottle of paint to tell what the color is, rather than the label. While you are looking at the color through plastic, it's more accurate than the label color because it's the actual paint. Remember that it's going to dry just a touch darker than you see through the bottle – just a little. I match all my paint using the bottom of the bottom and never have a problem!
2. Prepare your surface thoroughly. I've found that good surface preparation can make a project. Not preparing a surface can "break" a project. Here are the surfaces and what you should do:
Wood – Sand smooth with fine grit sandpaper, wipe off sawdust.
Glass – Thoroughly wash in warm, soapy water to remove dirt, dust and grease film. Then rinse in warm water and let it dry.
Canvas – Wipe primed canvas clean; if unprimed, apply 2 coats of gesso primer or acrylic paint.
Plaster – Wipe clean with damp cloth.
Plastic – Clean with soap and water. You will need a special plastic paint though – "regular" acrylic paint doesn't stick to plastic very easily.
Papier-Mâché – Wipe clean with slightly damp cloth to get rid of dust and let dry.
Terra Cotta – Wipe clean with damp cloth to remove dust and let dry.
Tin – Wash with soap and water, then wipe with a white vinegar dampened cloth if it's really dirty.
If you have a question about whether acrylic paint is going to work on your surface, do a small test in an inconspicuous area. You'll be able to tell if it's going to work or if the paint is going to scrape right off.
3. Use good quality brushes and take care of them. It's important to me to use soft natural bristle or taklon brushes (I love these brush sets – or these). A crappy brush will show brushstrokes or leave brush hairs in your project. I have wanted to throw a project across the room because I couldn't get a brush hair out of it – they are very elusive! Invest in your brushes and they will invest in you!
Wash your brushes between projects and leave them to dry on a paper towel (use your fingers to shape them while they are wet). Well cared for brushes are worth the investment because they will last a long time. The same goes for rollers or sprayers. Don't scrimp and clean them up throughly afterwards.
4. Don't put too much paint on your brush. Paint should only be from the middle of your brush hairs up towards the tip. You do not load the entire brush up to the metal part (know as the ferrule). It's better to go back and get more paint than to have too much.
Too much paint can make the brush go wacky when you press it down and make the paint harder to apply (especially important for detail work). If you need to cover a bigger surface, get a larger brush or use a roller. I'm telling you that I don't have  patience – but I never load my brush with too much paint. Patience is a virtue in this situation, trust me.
5. Consider priming, and definitely basecoat dark items with white. If you don't prime, you can possibly spend a lot longer covering an item, and you may not get the adherence of paint or the brightness of color that you are looking for. This is especially true if the item is dark. I've painted 20 coats of a lighter color over black and didn't even have 100% coverage.
I recommend using gesso or a highly pigmented white (like FolkArt Titanium White) for priming. Kilz is also great if you need a large amount of primer or a product that acts oil-based.
6. Keep water nearby so that you can add it to your brush frequently. Acrylic paint, when put on a palette, tends to dry out somewhat quickly. It's not THAT quickly, but it's enough that the paint could start drying while you are painting an item. Don't thin out the paint too much because you'll dull the color, but it's okay to dip your brush into water in a basin and swirl it around into the paint to get it going again.
I typically pull my brush out of the water basin, press lightly to a paper towel, then add paint. By pressing my brush into a paper towel, I'm removing some of the water . . . but not all. This helps me in the summer especially when (because of the area I live in) my paint dries quickly.
7. Use a sealer to finish. Acrylic paint has a somewhat chalky feel (well, depending on the finish) without a sealer applied. Some acrylic paints are Satin or Gloss and have a built-sealer, so then you won't have to add anything on top. If there is no built-in finish, I would use a clear acrylic spray or brush on sealer so that the surface doesn't scratch easily. It's not required, but it's helpful to make your project last longer.
8. Make paint chips. Use cardstock to create "chips," or small squares that show the colors you have in your stash. That way you know what you have for the next project. They're very easy to put together; simply cut cardstock into 1″ squares and paint a little bit in the middle, then let dry. There's your sample! Now you can take the chips to the store for home decor matching . . . rather than hoofing the table you painted to the fabric store to get coordinating curtains!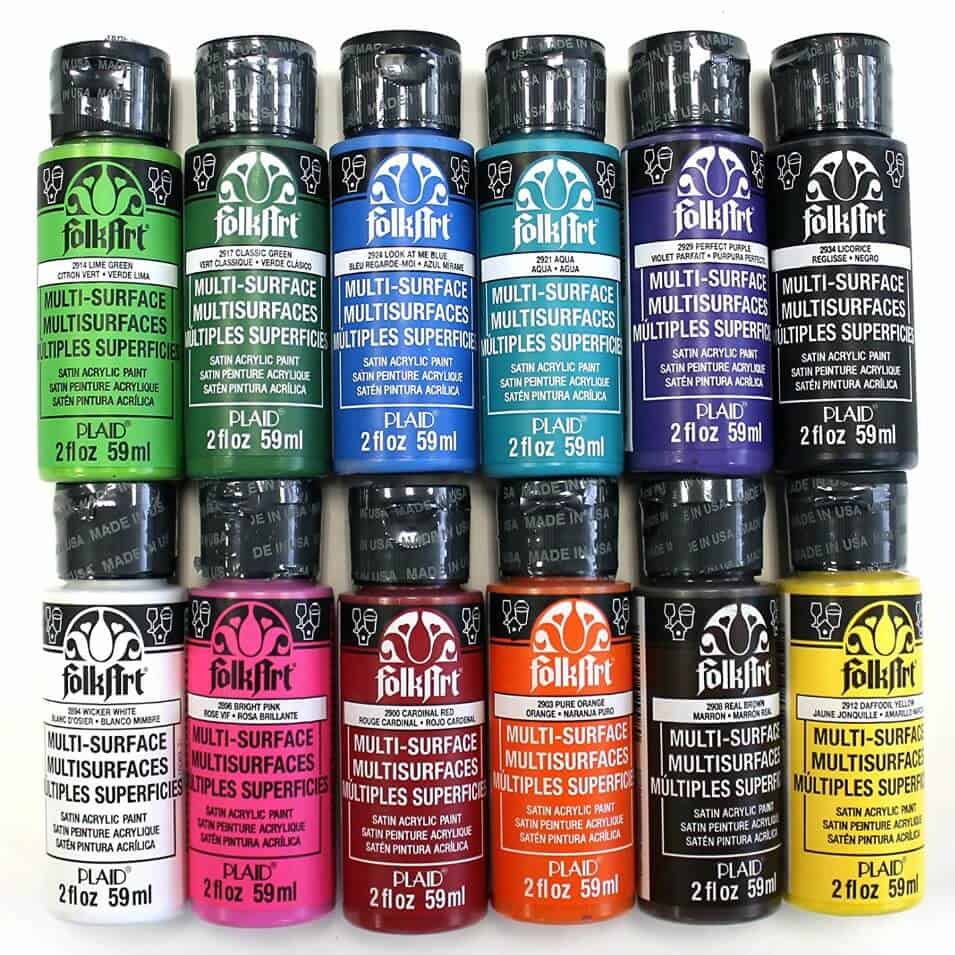 Now that you have a better grasp of how to use acrylic paint, I want to tell you about my favorite brand – I recommend FolkArt paint! I've using it for years. What do I love about it? Many things!
Amazing color palettes
Comes in many types (Enamels for glass, Fabric, Outdoor, etc)
Creamy consistency and good coverage
Durable finish
Water based, matte finish
Made in the USA
I know I sound like an infomercial, but this isn't sponsored – I just really love this paint. I've tested a lot of different kinds and it's easiest to work with by far.
Plaid has a great painting education center with more tips on how to use acrylic paint, as well as videos. Enjoy – and if there are more questions you have that I can answer on how to use acrylic paint, leave them in the comments. I'll do my best to help you.
PS – my friend Amanda has a great article that includes tips for painting on plastic. Please check it out!