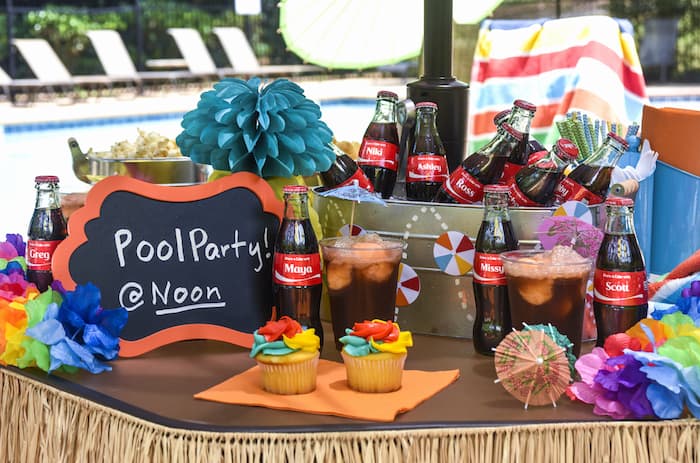 It was 98 degrees recently here in Atlanta. 98 DEGREES. That means it's really hot, and time to retreat to the water! My community has a gorgeous pool that was just remodeled, and I decided to use this past weekend to provide a little respite to my friends here in the dirty South. I held my pool party at noon and I'm excited to share the details with you. I created a unique beach ball craft idea AND a special frosty beverage recipe using Coca-Cola. Not only that, but I provided personalized Coke bottles with my friends' names on them courtesy of Coca-Cola's #ShareaCoke program. Yep, you can get ANY name on a Coca-Cola bottle for your next celebration! But more on that soon. . . .
I learned a lot after my first pool party and I'm looking forward to giving you my top 8 tips for hosting the best pool party EVER. Here the tips – so that you can be the pool party host of the year.
1. Keep sunscreen and extra towels on hand. These seem like no brainers, but they are the items most often forgotten! Inevitably someone will neglect to bring their sunscreen or a towel, so having extras will make those guests really happy.
2. Use simple and bright decorations. Let me tell you – it's really easy to get decorations for pool parties! Just go colorful and you're good to go. I did make something to be my sort-of centerpiece that also held my delicious Coca-Cola beverages . . . my bouncing beach ball tin!
To make it, gather: a large tin, scrapbook paper in white and several other colors, scissors, a 2-inch circle punch, a hole punch, double-stick tape, craft glue, and a chalk marker (optional).
Use your larger circle punch to cut a white base circle, and then several circles out of other colorful papers. Use a hole punch to punch out a center from white – this will be the center of your beach ball.
Beach ball assembly is very easy! Cut each circle into half – then into quarters – then cut those quarters into halves again. Those are the slices of your beach balls! Glue them into place and then glue the white circle as shown. Aren't they cute?
Double-stick tape your beach balls to your tin. Then (and this is optional) draw beach ball lines using a chalk marker. We let our beach ball lines dry overnight so the perspiration didn't make them run for quite awhile! The nice thing is that the beach balls remove as does the chalk, so you can reuse the tin for another occasion. Awesome, right?
3. Get your beach music on. Put together a play list perfect for summer – with tunes ranging from The Beach Boys to Will Smith's "Summertime." I love upbeat, happy tunes for poolside, don't you? I assembled about four hours of songs that I loved and thought my guests would enjoy too.
4. Provide cold beverages and easy-to-eat snacks. Don't pick any food that is too messy for guests to eat using their fingers. Also be sure to provide drinks on ice so that everyone can easily cool down with a delicious beverage. Might I recommend that you also add a fun touch and personalize Coca-Cola bottles as I did?! Yep – I used ShareaCoke.com to provide each guest with their own Coca-Cola bottle with their name on it. It's a great idea for making sure that all of your guests feel special, especially those with unusual names who NEVER get anything with their name printed on it. You know those people – they never get the license plate keychains from the gift store. Won't this be an amazing surprise?
My friends were thrilled with their personalized bottles. Such a fun touch to celebrate an amazing summer.
5. Serve a signature drink. I call mine the "Frozen Sherbet Fizz." And let me tell you how easy it was to make – it really doesn't get any easier than putting three scoops of orange sherbet into a glass of ice cold original Coca-Cola. I've always loved the Coca-Cola machines (I usually see them at the movie theater) where you can personalize the flavor that you put into your drink (like raspberry, orange, lime, and more). I've had orange from those machines before, so I recreated that same flavor with my Frozen Sherbet Fizz! The fizz happened when I put the sherbet in the Coca-Cola and let the flavors melt together a little. It was DELICIOUS!
6. Have a lifeguard present/CPR trained person/first aid kit. Depending on how many people are attending or children are there, you may want to hire a lifeguard for the day. If you don't opt for that route, at the least make sure you've identified who knows CPR . . . also have a first aid kit available. Being around a pool is a blast but it's also no joke if someone gets hurt.
7. Make sure there's a way to get out of the sun. Let everyone know where they can go to get reprieve from the sun in case of burns, or just because they might get too hot. Put seats in a covered area or set up a tent.
SO . . . now that I've shared my tips for the perfect pool party with you, I'm excited to get into the BIG prize! Here are the details.
THE PRIZE has a $1,700 value!
Win It: One lucky Mod Podge Rocks reader will WIN a "Share a Coke" prize pack, which consists of vouchers for two round-trip flights on United Airlines to anywhere in the continental U.S., Caribbean, Mexico, Central America or Hawaii and a $500 Visa gift card ($1,700 ARV). The flights can be redeemed through voucher codes on United.com and will be good for one year from the issue date.
How to Enter – you MUST follow all four steps:
Create a Pinterest board and name it: Coca-Cola #ShareaCokeSweepstakes (get inspired by my board here!)
Pin your favorite summer celebration tips and inspiration to your board. (You're not required to include Coca-Cola or Share a Coke pins on your pinboard – just pin your own inspirations)
The hashtag #ShareaCokeSweepstakes must be included in your board title and in the caption of your pins
Leave the URL of your pinboard as a comment to this post!
The contest ends August 1st at 11:59pm EST – so get in your boards before then. Good luck and happy summer!
UPDATE – the contest winner is Nicole W. She has been notified and has claimed her prize. Thank you to everyone for entering!!