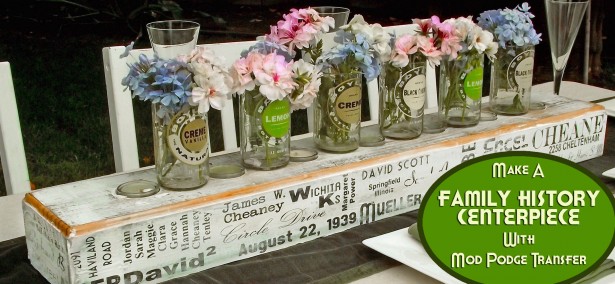 I'm on a Mod Podge photo transfer medium binge! After my breakfast tray project last month, my mind got percolating with other ways I could use MP transfer.
My Etsy shop and blog are pretty much all about home, family and memories and I hit on this idea for centerpiece for a family gathering (an anniversary, a wedding . . . pretty much anything).  I thought it would be a fun way to celebrate a family's history with names, street addresses, wedding dates etc.
I made it and I liked it and I photographed it and then, as often happens I thought "wait! I have a better idea!"
And once I started on the better idea I suddenly realized "Wait!  Or I could do it this way!!"
Such is the nature of my creative process.
However,  my creative process had a deadline so what follows is a tutorial on how I made my centerpiece along with tips on how to augment it to make your own version and, at the end, a brainstorm of other variations.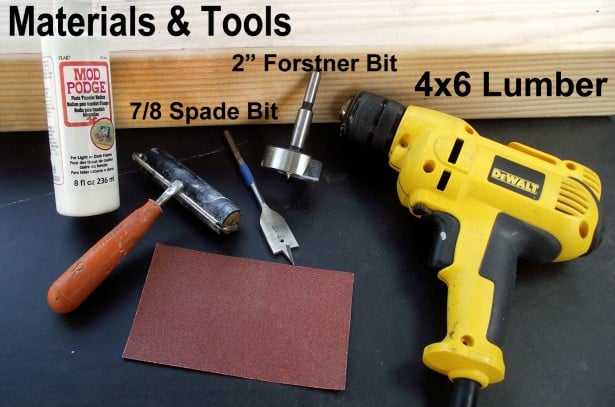 4×6 piece of lumber cut to 36 inches long
A 2″ Forstner bit (to make it a tealight holder) or a 7/8 inch Spade Bit (for tapers)
Wood Stain
Flat white paint
Mod Podge Photo Transfer Medium
Electric Drill
Sandpaper
Laser copy prints of the family names
Glass tealight holders (from Ikea or Pier One) or tapers
Roller/brayer (optional)
Router (totally optional)
I gussied up the edges of my wood with a quick pass with my small router but I realize not everyone has those kinds of tools so it's a very optional option.
Step 1: After determining  where I wanted my tealights to go (math!) I used the 2″ Forstner Bit and my electric drill to drill the holes (alternately use a Spade Bit if you wanted to use tapers rather than tea lights)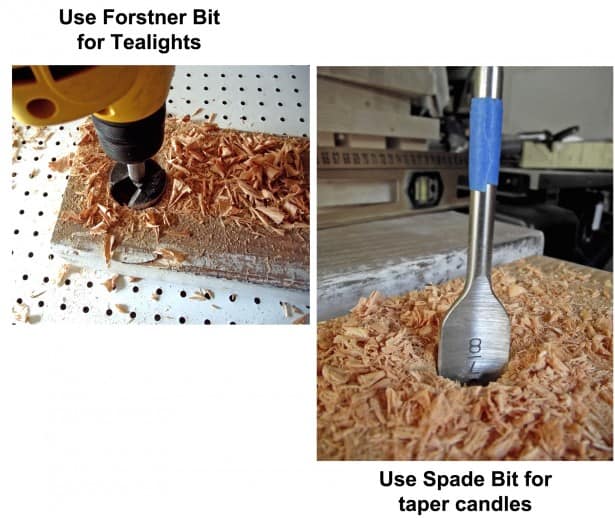 Safety: Clamp or brace the piece of wood securely to your work table before you drill and wear eye protection!
TIP: To make sure you get all the candle holes drilled to the same depth just mark the bit with a piece of painters tape and drill down to that level every time.
Step 2: I lightly stained the edges and top of the wood and then painted the whole piece with flat, white latex paint.  Once that had dried I sanded the edges and top for a slightly aged look.
Step 3: I designed my text to fit on legal sized paper (14″ long by 3″ high) using the Word Art feature in MSWord.  With WordArt you can resize and move the text around to create any layout you'd like.  I mixed  fonts and styles and, once I had it all to my liking, I chose "flip horizontal" on the layout menu and flipped all the words backwards and printed it out on plain legal paper with a laser printer.  It took several pieces of paper to get all the way around the centerpiece and I had different design for each piece – here is a sample: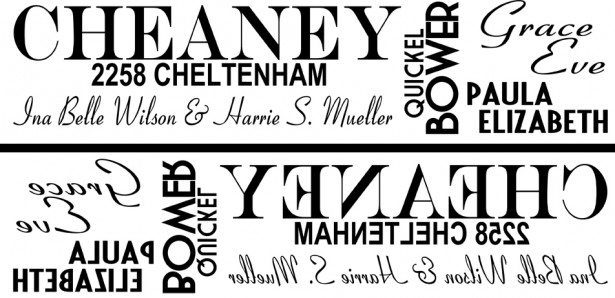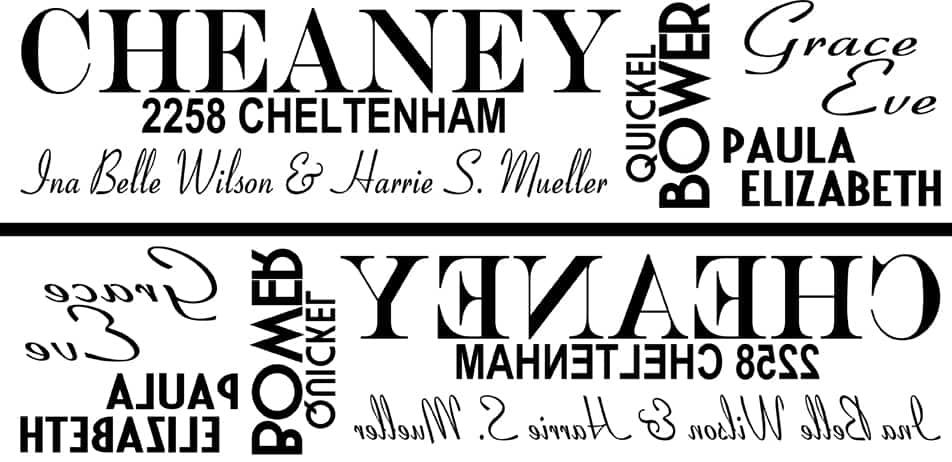 Step 5: I laid down a good coat of Mod Podge Transfer on the face of the wood and then placed my paper on top.  To ensure a good transfer I used my fingers and the roller to press the paper down into the medium.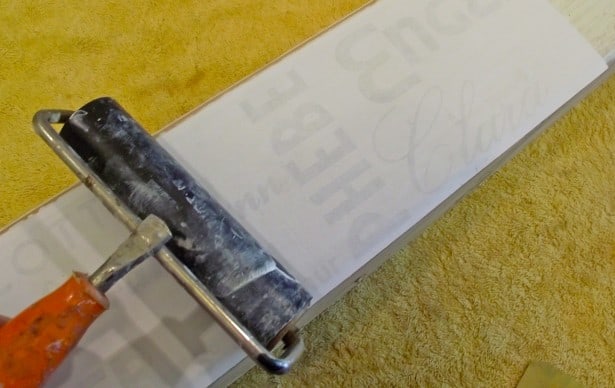 Step 6: After letting it dry overnight I soaked the paper with a damp rag and rubbed it away.  I used the transfer medium because, as you can see, even though a thin layer of paper remains you can see the wood and the texture of the wood through it.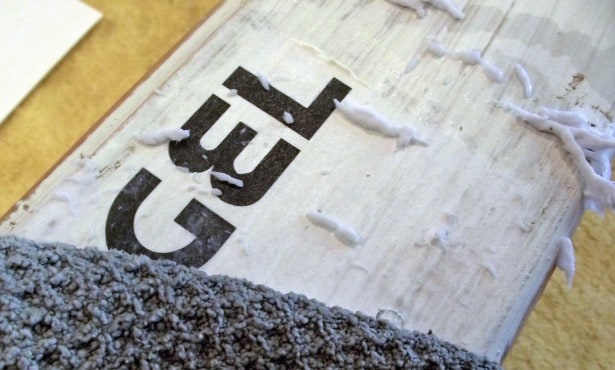 And it was time to get the party started.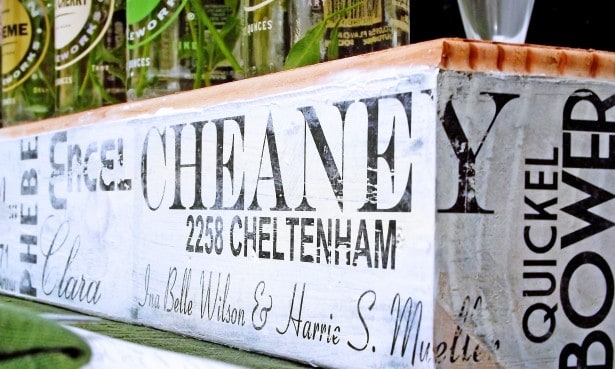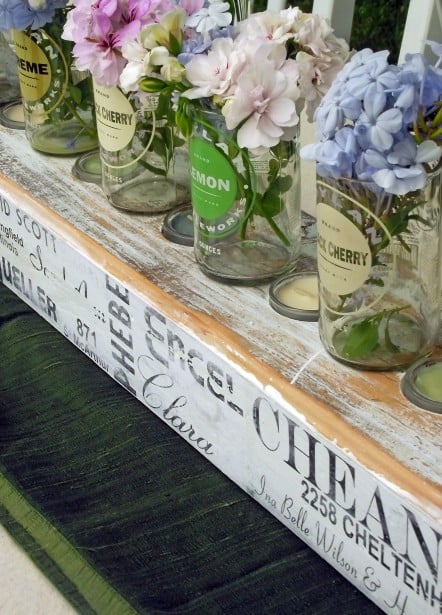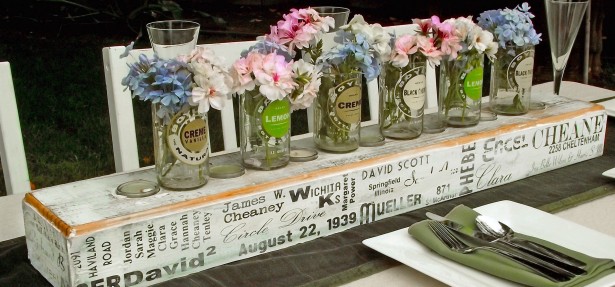 Brainstorming:
Now as I mentioned I came up with a bunch of other ideas for this project.
Here is version with tapers rather than tea lights
I thought it would be cool to use the same technique but on medium sized flower pots rather than wood.   Each pot could be designated to a particular branch of the family and then they could be take-home gifts.
Or perhaps small flower pots at each place setting with that person's family names featured.
You could do the same thing with smaller blocks.  Put them together in the center of the table to make the centerpiece and then, when the party is over, everybody gets to take one home.
The idea would also work for wedding table settings or rehearsal dinner favors.
You could also incorporate family photos into the design for some visual variety.
I hope this sparks some ideas for your next family gathering. And, as always, I will monitor the comments section so if you have any questions fire away!
Also don't forget to visit David at his blog, Etsy, or on Facebook.