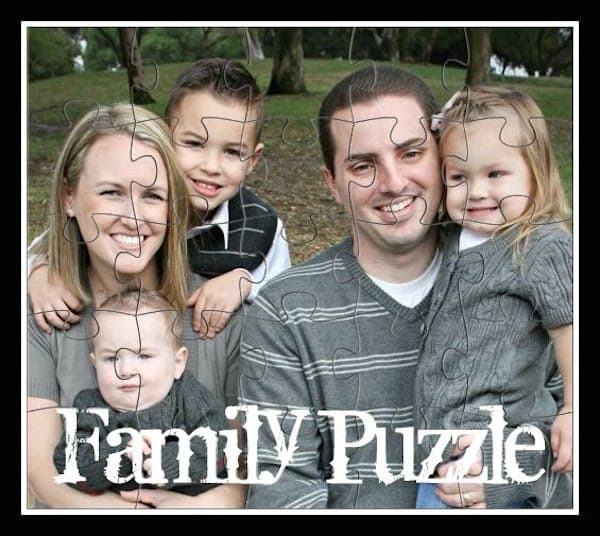 Meet Stephanie from somewhat simple. She is your host for the day with a DIY photo puzzle, while I sit on the beach drinking Mai Tais. Kidding! I only wish. Stephanie is a fantastic blogger, but I'll let her tell you about herself below. We swapped today, so come to her blog to see the project I did. Happy Friday Podgers!
————–
Hey there Mod Podge-ers! My name is Stephanie, and I am the creative mind and creator of somewhat simple. I am so excited to be taking over this blog today! I started somewhat simple this past summer – it is my little corner of the universe where I share yummy recipes, craft tutorials and all things creative! All 3 of my kids have been sick this week (go ahead, feel sorry for me!) so in between cuddling the sickos and disinfecting my house over and over again, I put together this fun DIY photo puzzle tutorial for anyone who wants a cute, easy project their kids can enjoy (when they aren't sick, of course!) I call it "A Family Puzzle" (so original, I know!) Each step of the tutorial has a picture, for those of you "visual learners" like me!
DIY Photo Puzzle
Gather These Supplies
Picture (I just copied and pasted one into a Word doc, then sized it and printed it off my computer)
Scissors
Scrapbook Paper
Chipboard (ie, a cereal box)
sponge brush
You may also want a Ziploc baggie and a shipping label (those are not pictured, but I will show you what I did with them later in the tutorial)
Directions: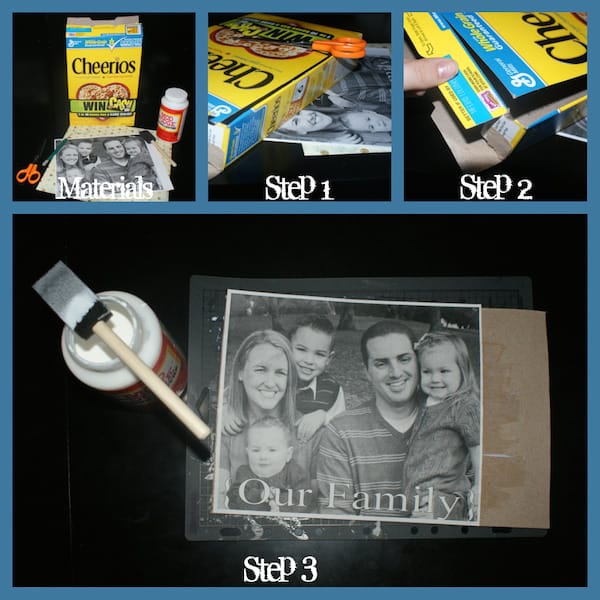 Step 1. Cut one side of your cereal box.
Step 2. Save your Box Top for Education! Send it to school with your kids (so this isn't relevant in the tutorial steps, but I had to throw it in there!)
Step 3. Apply your picture to one side of the cereal box with Mod Podge, brushing a thin layer under and on top of the picture. Allow to dry completely.

Step 4. Turn your cardboard over and apply your scrapbook paper to the backside with more Mod Podge. Allow to dry completely.
Step 5. Cut off excess cardboard and scrapbook paper.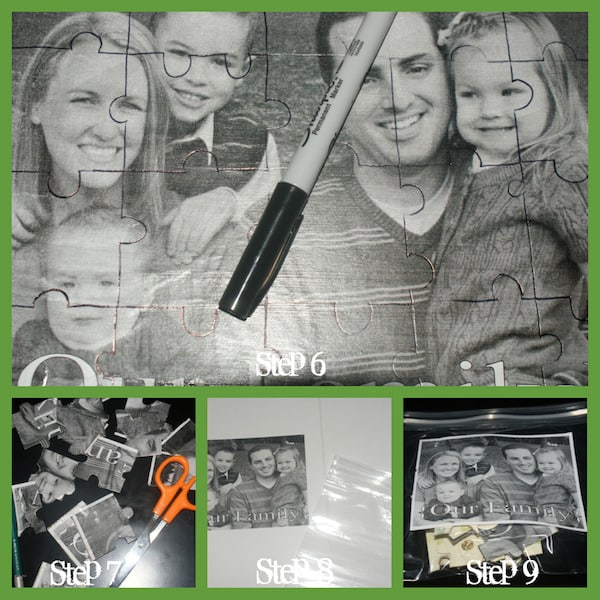 Step 6. Using a Sharpie or something you can see, trace an outline of puzzle pieces on your picture.
Step 7. Cut out each piece with an X-Acto knife. Scissors are easier, but not as accurate–so if you're lazy like me, you'll start with the X-Acto knife and end up using scissors and care less about exactness.
Step 8. Print out a smaller sized print of the same picture onto a shipping label and apply it to the front of a Ziploc bag.
Step 9. Place all pieces into the Ziploc bag for safe storage. I have a box of these homemade puzzles my kids love to pull out. Each puzzle is in their own bag and it makes for a quiet game!
Variations on the DIY photo puzzle:
-Cut the pieces bigger or smaller depending on the age of your children. For my 3 year old, I have puzzles that are only 3-4 pieces.
-Instead of scrapbook paper, you can keep the back of the cereal box uncovered–my kids like re-creating the cereal box too.
-Cover the back with felt and use this puzzle on a flannel board.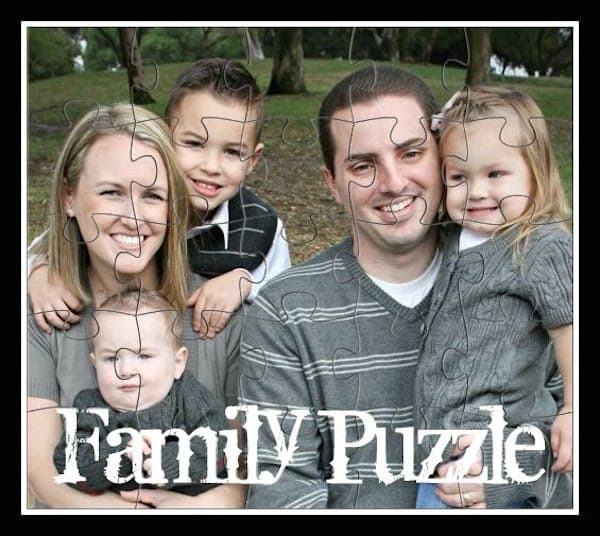 Your DIY photo puzzle is complete. Super simple, hardly worthy to be in company with the other great projects Amy has here! If you want to see what I can do when I am not juggling sick kids, hop on over to somewhat simple. I post something different every weekday, so there is always something new and exciting! Giveaways, contests, monthly challenges, and of course craft ideas and yummy recipes. (Speaking of which, I need to go plan dinner for tonight! Ugh!) Anyway, come join in the fun and get inspired! I hope to see each of you soon! Thanks again Amy for swapping with me today! You (and your Mod Podge) rock! Have a great weekend!!!