This post brought to you by ALPO® Brand Dog Food. All opinions are 100% mine.
Does anyone else have dogs that get maybe a little too excited to eat? I've got a couple of piggies in this house. Roxie, my pug was here first – then came Yoshi, adopted last year (see her above). I'm pretty Roxie taught Yoshi that mealtime was  a reason to get crazy excited. The only thing about Yoshi is that she is really picky!
So what do I do? I mix wet ALPO's variety dog food with her dry kibble! As I said, she gets really excited to eat, but we're working on the jumping . . . so I make her wait patiently as I prepare her food. What do you think?
Yep, her training is getting a little bit better! Please don't laugh at my dog's mini werewolf legs. Actually you can – they are hilarious! As you can see, this picky eater gobbled her food up.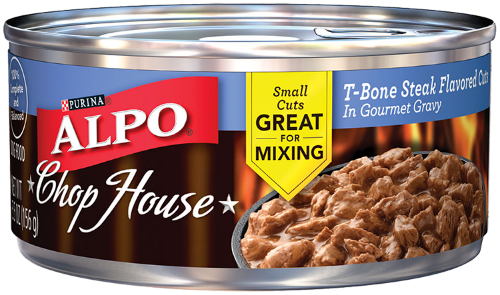 I use ALPO® Chop House cans in the 5.5 oz size to mix with Yoshi's dry food. The ALPO® wet dog food is 100% complete and balanced and has quality ingredients, like healthy protein sources, wholesome grains and accents of vegetables, contribute to form a complete and balanced diet for each life stage. ALPO dog food helps support a happy, healthy life, a shiny coat, strong bones and teeth! You can learn more on their nutrition page.
The ALPO® Chop House 5.5 oz offers unique flavors for your dog, such as T-Bone Steak Flavored Cuts, Tender Cuts With Lamb, Filet Mignon Flavor, and Rotisserie Chicken Flavored Cuts. Yoshi's favorite flavor is the T-Bone Steak! And then there's this piggie, who will eat any flavor. Look at what she does when I ask her to speak to get her food:
Roxie ALPO from Amy Anderson on Vimeo.
For more information about ALPO® and to share images of your happy pooches, visit ALPO's Facebook Page and ALPO® on Instagram.