This post brought to you by Walmart. All opinions are 100% mine.
If there's one thing that Mod Podge Rocks readers know, it's how much I love my dogs. You should also know that these two pups are the hardest workin' furballs in show business. Not really, but I do make them dress in costumes now and again. I need cute pictures to share with the world! Recently I made them put Santa hats and beards on, which they loved, as you can see. The thing is, they always know they are going to get treats at the end of their sessions.
They also have some tricks. For example:
Here's Roxie doing one of her famous "tricks" to get treats! She lets me break them into pieces and place them on her paws while she lays down (trust me, this is hard for a piggie). She'll sit there as long as I want her to, waiting to get her treats. The whole time she is wagging her tail and drooling. It's hilarious! Do your dogs do any tricks like this? I'd love to see pictures.
My pets are passionate about treats, especially Purina® Beggin' Strips®. Yoshi is especially picky about all sorts of treats – but not these. She cries, whines and trembles for them – it's hilarious! So since my dogs love them so much, I buy them by the boatload from Walmart. Their favorite flavor is the Bacon & Peanut Butter, which you can also pick up from your local Walmart store.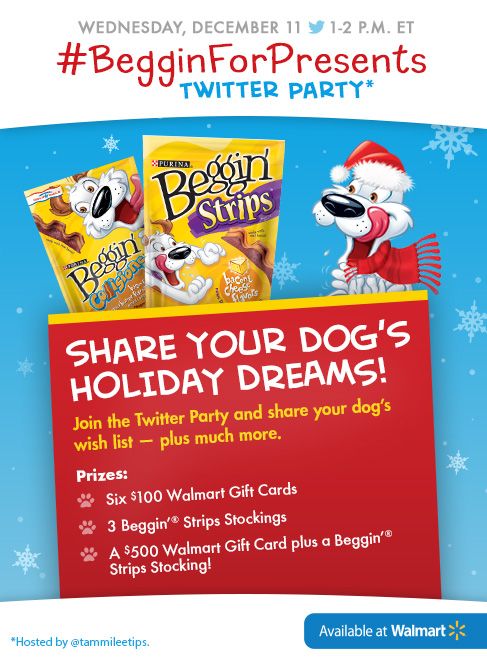 In addition to sharing these fun pictures of my pups, I wanted to let you know about an upcoming Beggin' Strips® Twitter party – where you can win prizes!
Here are the details:
Dates: December 11th (Wednesday)
Time: 1:00pm – 2:00pm EST
Host/CoHost: @tammileetips / @moderndaymoms
Prizes: $100 Walmart Gift Cards, Beggin' Strips® Stockings, and a Stocking including a $500 Walmart Gift Card!
Hashtag: #BegginforPresents
Must attend party to win, winners announced throughout the party
If you haven't been to a Twitter party before, check out these tips. I'll be there, and I'm hoping you'll Join the Party!
Disclosure: This is a sponsored post written by me on behalf of Triad Retail Media. All opinions are 100% mine.