This post brought to you by American Osteopathic Association. All opinions are 100% mine.
So I'm one of those people that works in a few different locations – such is the job of a freelancer. Sometimes my view at work is the above: I'm on the computer with my legs propped up, starting at my puggles. And sometimes I go into an office environment and work at a desk. And then a third scenario is when I go into the studio and design projects. Add this to the time I spend in the car and it can be pretty hard on one part of my body in particular: my back.
About a month ago the chronic pain in my lower back got so bad that I had to see a doctor. She gave me some anti-inflammatories and insisted that I start doing some stretching, so I upped the amount of yoga I was doing from once or twice a week to four times a week. It has definitely helped, but it's an ongoing challenge to alleviate my back pain.
Did you know that more than 100 million Americans live in pain? Especially office workers. A new survey from the American Osteopathic Association (AOA), found that 2 in 3 office workers have experienced physical pain in the last six months, and nearly 1 in 4 believe it's just a standard part of having an office job. As those of you with pain know, chronic issues can make it harder for people to live normal lives and take part in regular activities. Also office workers (including myself) typically feel like "pain just comes with the job," leading them to ignore or undertreat their pain.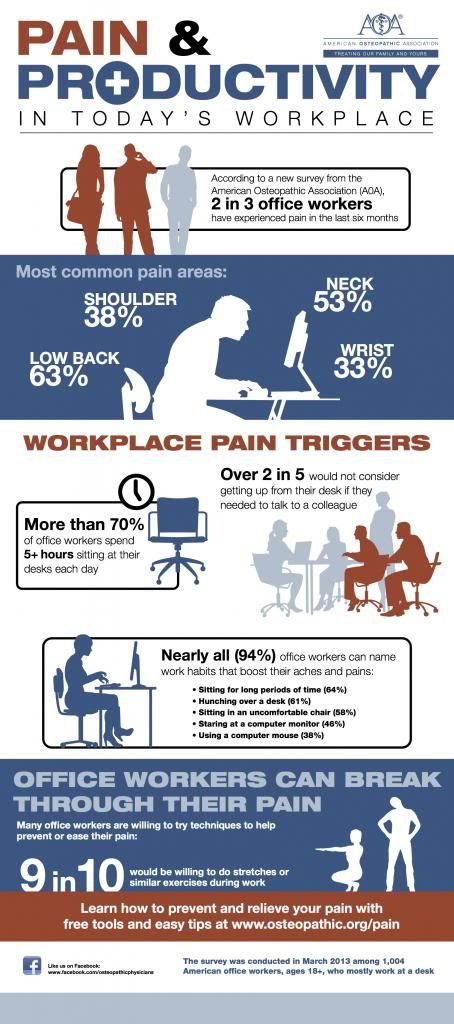 More than 100 million Americans live in pain, including office workers who are also putting themselves in danger of further discomfort. Chronic pain can make it hard for people to live normal lives and even prohibit them from taking part in regular daily activities, including work.
This misperception can lead office workers to ignore or undertreat their pain, creating a debilitating cycle that results in chronic, or reoccurring pain. To address the issue, the AOA recently launched the "Break Through Your Pain" public education campaign to help office workers be productive and pain-free with the tips, tools and advice they need to prevent and relieve pain. Great idea, huh?
I'd love for you to share the infographic in this post on your Facebook page, Twitter and Pinterest accounts – and let me know about your story experiencing pain at work.